From cabinet organizers to food-storage solutions to shelves that'll maximize cramped spaces, all the stuff that'll help you restore order in your kitchen, no matter how big (or small) it is.
We hope you love the products we recommend! Just so you know, BuzzFeed may collect a share of sales or other compensation from the links on this page. Oh, and FYI — prices are accurate and items in stock as of time of publication.

A no-tools-needed two-tier shelf that'll teach any awkward corners a lesson or two about space maximization. (What, your shelves don't talk sternly to your corners?)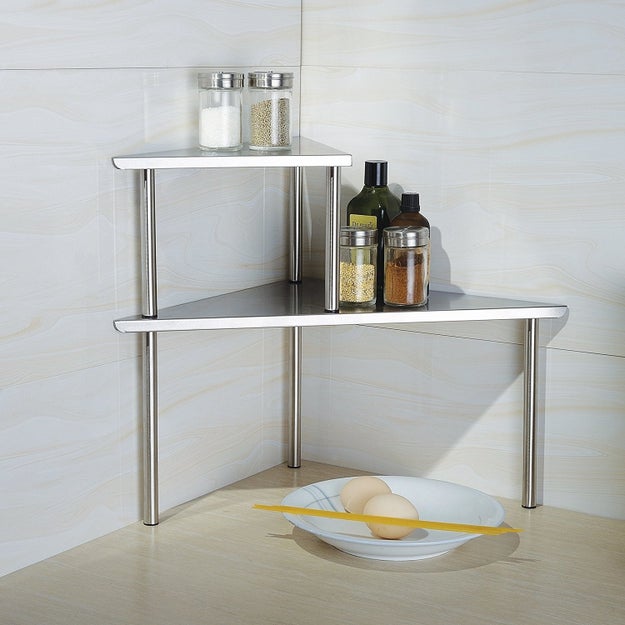 Promising review: "What you see is what you get. A nice, solid stainless-steel shelf. Looks great in my kitchen. In fact, after seeing this one up, I ordered a second one to go on the other side of my stove. No tools were needed to assemble. Took about two minutes to put it together." —MascotRay
Price: $23.88
A plastic-bag holder, so you can finally start being civilized and stop storing your plastic bags inside another plastic bag in a random drawer.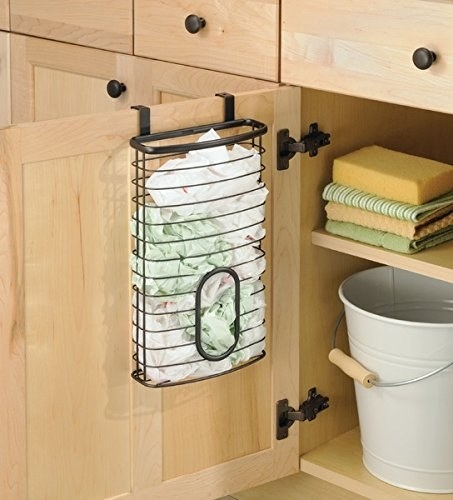 Promising review: "This is a great product, I really love it! Exactly what I was looking for and needed to keep my bags in a much nicer way and more accessible to us. We used to store extra bags in a bag hanging on the handle of the door — that always irritated me. So when I saw this way to store my bags, I was very excited. The product is a nice heavyweight wire that does not look cheap and doesn't move while hanging on the cabinet door due to the foam backing on the hangers." —Fur Kid Mom
Price: $12.99 (available in six colors)
Or a tea bag organizer that holds over 100 of 'em, if tea time is more your vibe.
Holds more than 100 tea bags.
Promising review: "Do I really need a tea bag organizer? That's what I was thinking when I ordered this. And when I took it out of the box. And when I filled the first little bag holder. But as the pile of empty boxes grew larger, I knew the answer was yes, I do need a tea bag organizer. I was using a whole shelf and a half of jumbled tea boxes, which I had to sift through to look for a specific tea. In the end, I think this held about eight or nine boxes of tea bags (I crammed some of them). I am so happy that I got this!" —Sarah C.
Price: $24.99
A mounted rack for your pots and pans that, tbh, you know you've been thinking about getting for forever, so maybe you should just take this as a sign that the time is now.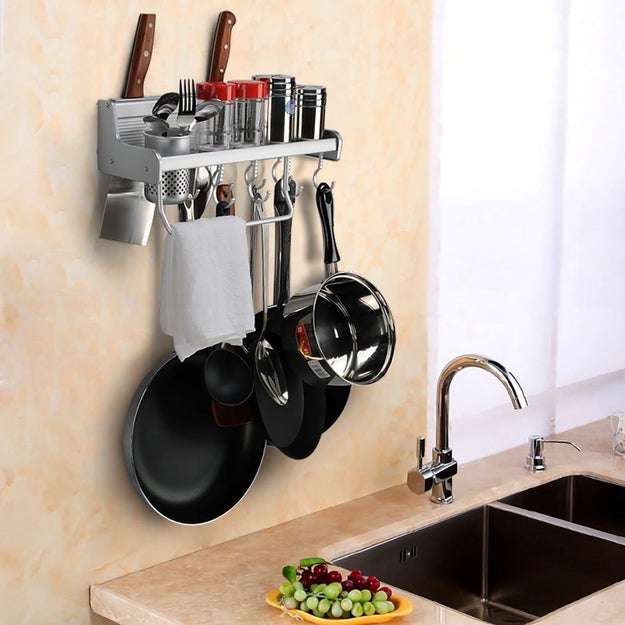 Promising review: "Sometimes you love your order and at the very same time you think, why I am late to do this? It holds all my items and is very convenient. This product doesn't take too much space and its a great fit for your kitchen — if you have a small kitchen then it's a right choice for you. Very easy to install without need a handyman. The best part is it comes with eight hooks for hanging pots and pans and soup ladles and cutting boards; you can move the hook to provide enough space for your cookware. Three knife holders can store choppers and fruit knives, with extra plastic made of ABS, which makes sure the knife is not easy to blunt. Overall highly recommend for your kitchen stuff." —Vinit Rajguru
Price: $22.99
Or a tip-out tray that'll put some faux drawers to use for discreet sponge storage. (What else were they doing anyway?)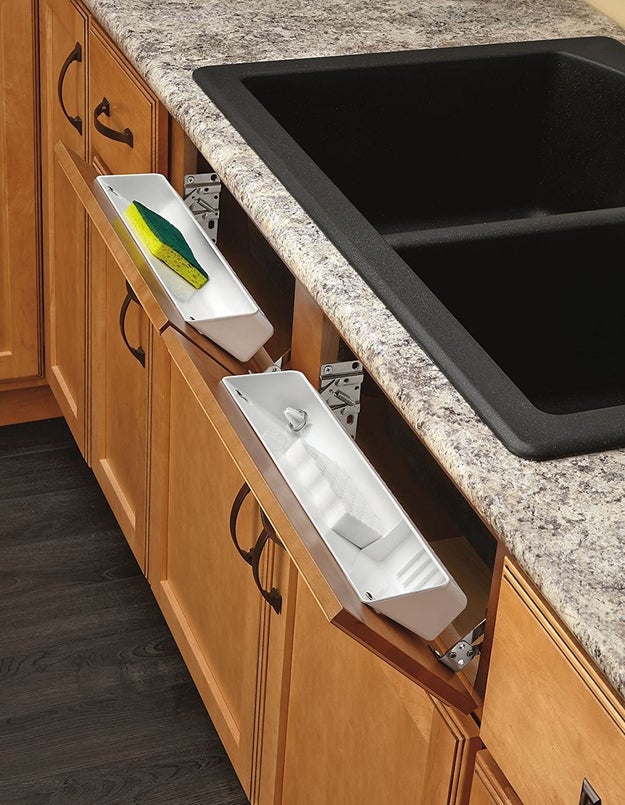 Promising review: "Love this! No more clutter of sponges and stoppers around the sink. We installed these when swapping out the sink. Installation with no sink in place is a breeze; otherwise I can see how it might be tricky. The hinges work well. They were a little stiff at first but loosened up in a day or two. They still close with a little "snap," which one time jettisoned the sponge into the under-sink cabinet — now I know where to look if it ever goes missing again. The trays can be slid off their mounting screws and rinsed out when they get a little dirty from storing the cleaning supplies." —Lisa
Price: $18.24+ (available in 11-inch and 14-inch lengths)
Or a pull-down spice rack that makes use of vertical space and can also be used to organize all sorts of goods housed in small containers.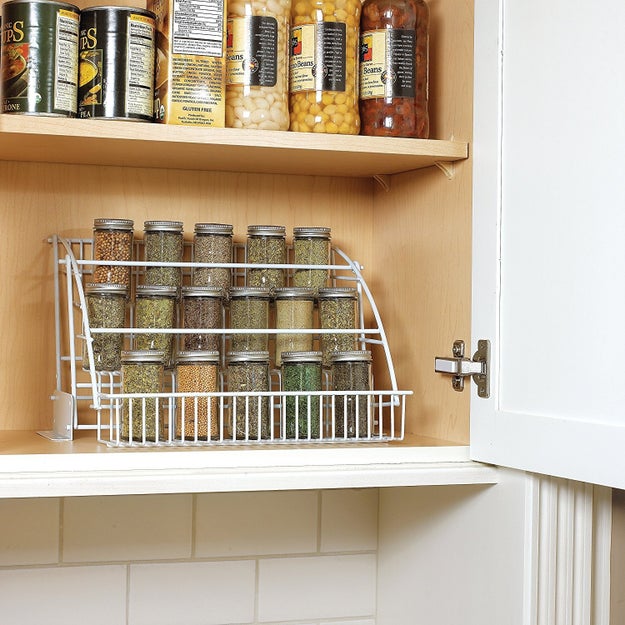 Promising review: "THIS IS AMAZING. I'm so happy with this product. I was desperate for a way to organize all my baking things, all of which are painfully small and lead to mass clutter. Be careful when installing that you don't leave it too close to the edge or it won't pull down the whole way." —Abigail Greene
Price: $20.02+ (available in black, clear, and white)
A charming foldable bamboo wine rack to prove to your guests that you've got this whole adulting thing down pat.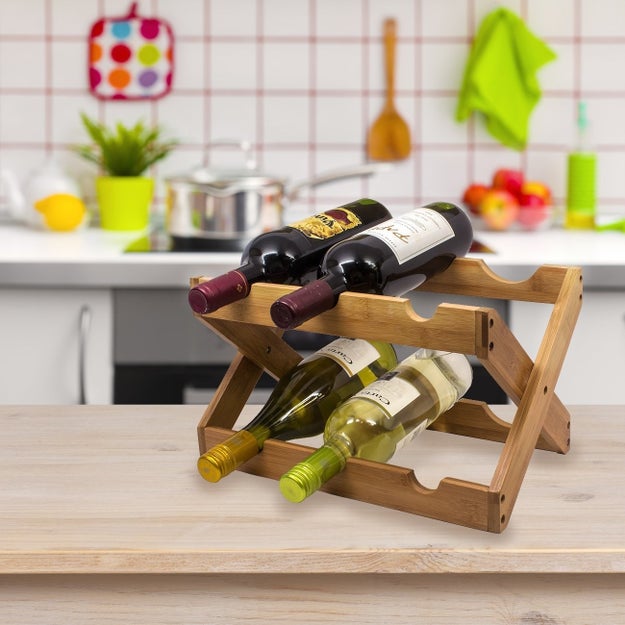 Promising review: "This wine rack is perfect for my use: under cabinets/on top of counter. Right height. Right engineering (correct tilt to keep corks submerged; completely stable). Right number of bottles -— as another reviewer has said, it can even hold two additional bottles on top and on the bottom, one each in the two gaps between the three bottles on each level. This one performs as advertised, smartly and stably." —R. Burnstine
Price: $14.99
Amazon
And an under-the-cabinet hanging wineglass rack that'll seal the deal.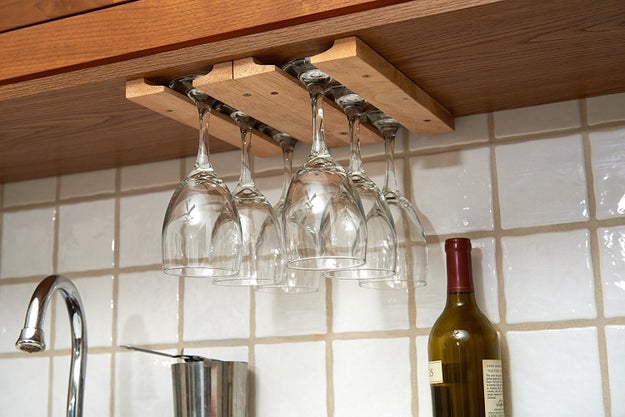 Promising review: "I turned an entertainment center into a beautiful liquor cabinet. These are perfect and easy to mount. You just have to be sure the spacing is right for the size of the base of your wine glasses." —Shirley A. Vierth
Price: $15.99
A cereal dispenser to make life simpler for anyone with kids or mobility issues *and* keep your cereal nice and fresh as an added bonus.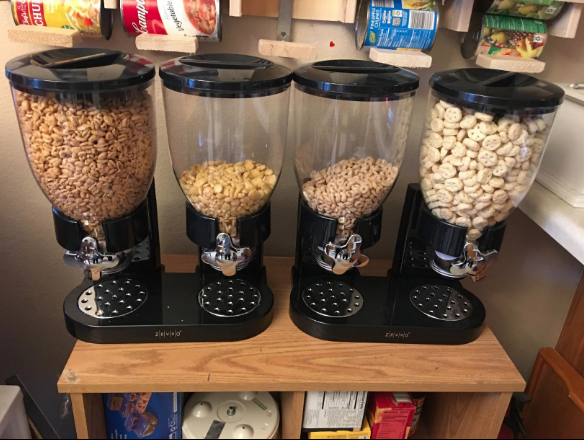 Promising review: "I love the convenience of just turning a knob and cereal appears. No fuss, no mess! I bought this because my 14-year-old can't seem to pour a bowl of cereal without spilling it or the milk or both. This would have been convenient when he was a little boy looking to help himself. The container releases one serving at a time per turn of knob. Good for calorie control. But great for clumsy hands in a hurry! No spills at all!" —Cindy120
Price: $14.99+ for a single dispenser and $37.95+ for a dual dispenser (available in black, white, red, and silver)
An adjustable bakeware rack that'll make all your flat baking items super-easy to access and store — so you can stop storing them in the oven already.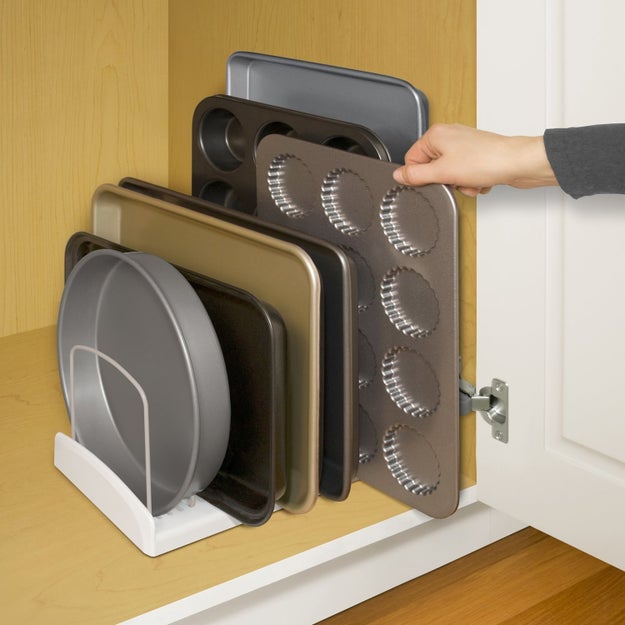 Promising review: "We have one kitchen drawer and very awkward cabinets in our apartment so organizing was an ever-changing and maddening puzzle. Frustrated with the challenge, I went online came across this product which originally seemed expensive at $19.99. In my desperation, I decided to try it out anyway. I ended up loving it and bought three more at that price. I'm happy to recommend this product to others in the same situation especially with the price cut. It's very sturdy and takes only seconds to set up!" —Elizabeth Giordano

Price: $14.99
A chic little four-tier rack narrow enough to fit in the tightest spaces that'll hold everything from sauces, oils, and seasonings to wine bottles and small bowls.
Promising review: "Love this item. Easy to put together. In fact was concerned because the shelves just sit in the slots. But the weight of the items keep the shelves from moving. We went from an older 42-inch-wide stove to a smaller 36-inch stove and had a 6-inch gap at the end of our counter. This fit perfectly at 5.5 inches wide. Love that it holds my large Tone seasoning canisters from Sam's Club. Put them on top two shelves and heavier glass bottles (like olive oil) on bottom. Looked at the plastic ones, but a lot of people were saying they weren't holding up and were coming in with broken pieces. This would be very easy to spray-paint any color to match your cabinets. Thinking about adding one to bathroom and painting white. Love that you can lock the front two wheels into place so no kiddies can pull on it and spill anything." —Mudhen
Price: $38.99
An expandable shelf to organize all that crap you've got strewn about like a tornado hit under your sink.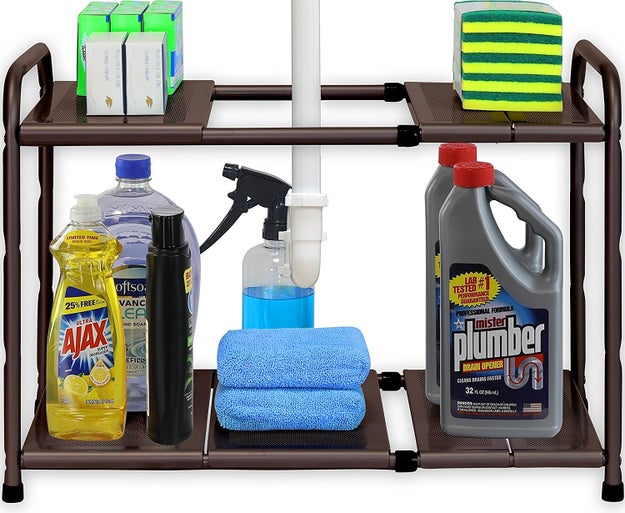 Promising review: "As a professional organizer, I have purchased this item several times to solve the problem of many clients' under-the-sink organizing dilemmas. It's easy to assemble, made of sturdy material, and shelves can be adjusted to clear the plumbing. It solves 95% of the situations people face when trying to better organize the space under their sink. It works the best for bathrooms where clients can add plastic bins or baskets to corral their many personal hygiene products when bathroom vanity drawers are not an option." —Susan Rupe
Price: $19.87 (available in black and bronze)
A cute paper towel holder nestled below a convenient shelf for other frequently used kitchen items, like dish soap and sponges.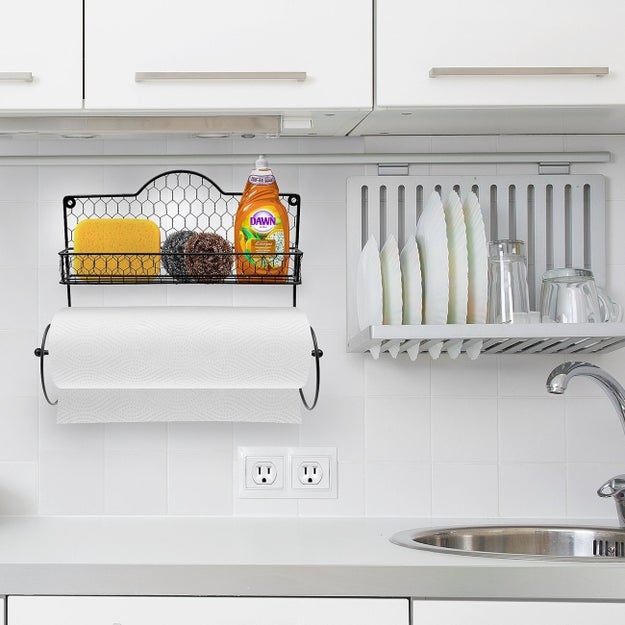 Promising review: I am absolutely in love with this paper towel holder. It is not only great looking but so easy to use. No more tearing half the roll of paper of towels when you only want one. This really gives you only one towel. It is great for me since I am disabled. Best paper towel holder I've ever owned." —Cathie C.
Price: $17.75
A gorgeous expandable bamboo cutlery drawer so you'll never have to dig through a pile of utensils again just to find that dang spatula again.
Promising review: "My utensil drawer has never stayed organized, so I gave this a try and I'm so glad I did. Everyone who opens the drawer now is so impressed by how neat it looks and how easy it is to find what you're looking for. The quality is great and I love the color. The expandable feature is really nice since it allows you to customize to fit your drawer. Make sure to measure first!" — Mindy Spacco
Price: $25.65
A mug tree so up to six of your faves are always within arm's reach if cabinet space is at a premium.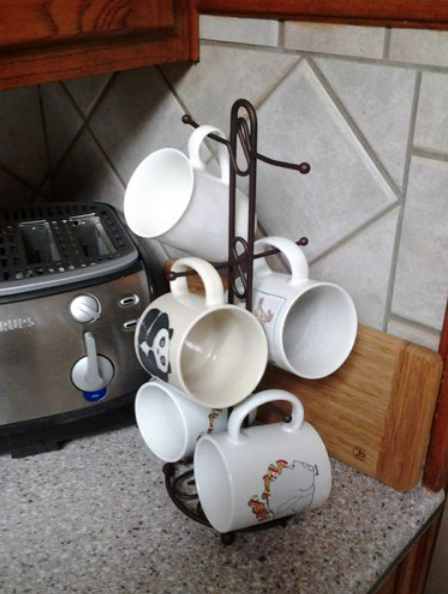 Promising review: "I read a LOT of reviews on various mug trees before deciding on this one. It's just what I wanted: sturdy, nicely made, great finish, and looks great without taking up too much space. If needed, it would even fit under my kitchen cabinets (but I like having it on the outside edge of the countertop). VERY useful and it looks great; the picture doesn't do it justice.. Love it; highly recommended for its quality AND the terrific price. Very happy! PS: I added stick-on felt pads to the bottom of each foot. Keeps it quiet and protects my countertop." —OK
Price: $9.99

Some reviews have been edited for length and/or clarity.
Allison Krausman / BuzzFeed
Source: https://www.buzzfeed.com/food.xml