Not all recipes are created equal.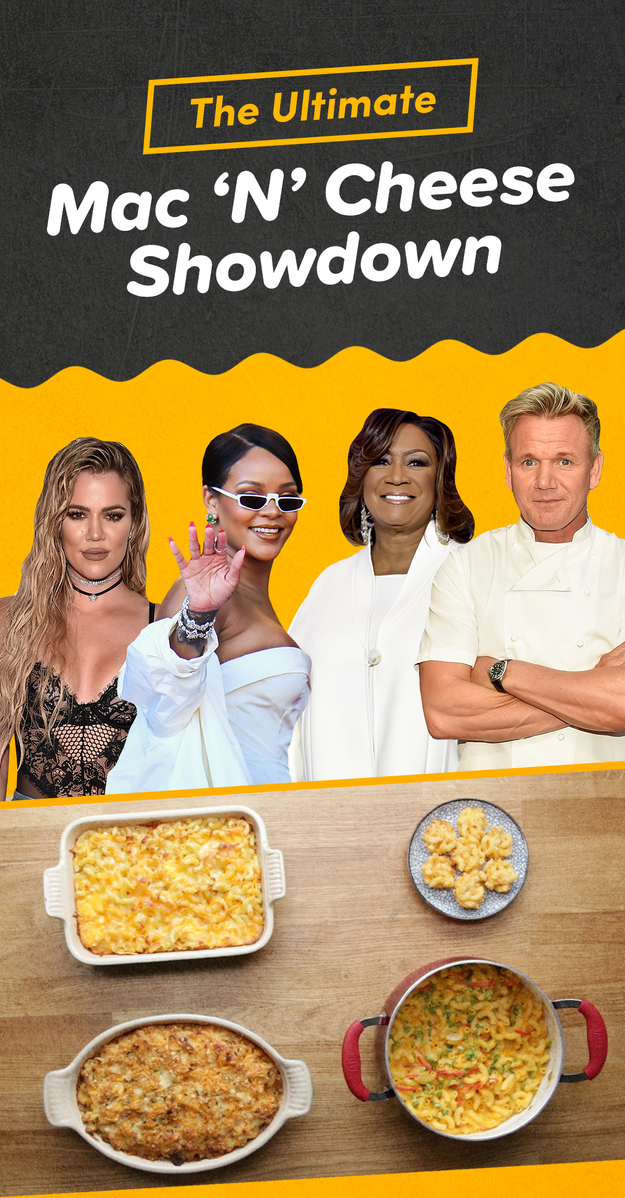 Alice Yoo / BuzzFeed
Mac 'n' cheese is one of the greatest foods in the world.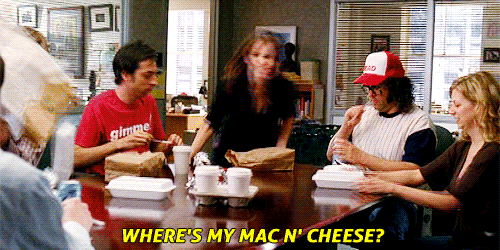 I mean, it's almost impossible not to like it — but not all recipes are created equal.
NBC
So, in an attempt to find the absolute best, I decided to test four popular recipes: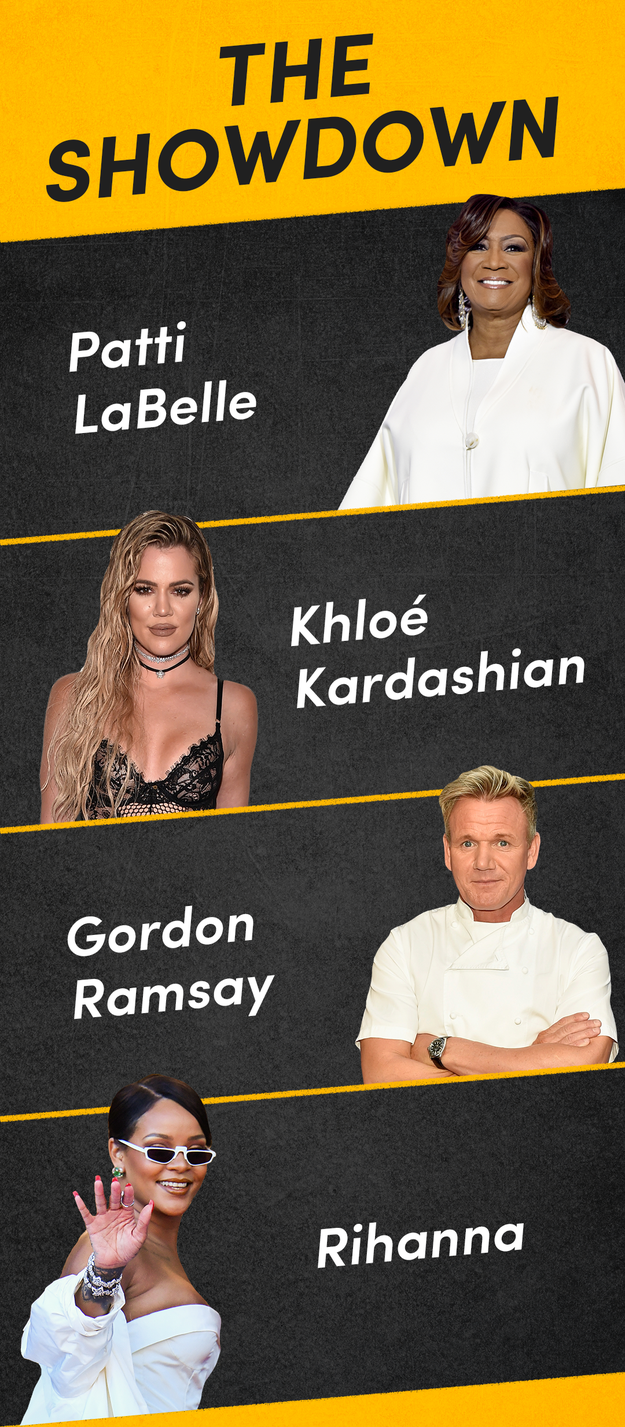 This was my lineup:
1. Patti LaBelle: Because Patti is not only known for her singing, but her cooking. Her sweet potato pie gained a lot of attention, and she has been making her famous mac 'n' cheese recipe for years (even cooking it for Oprah herself). I had to try it.
2. Khloé Kardashian: Because I love the texture of baked mac 'n' cheese, and Khloé cooks hers in mini muffin tins so every bite has the perfect combination of crispy and soft.
3. Gordon Ramsay: Because he uses ~fancy~ cheese and puts whole florets of cauliflower in his mac 'n' cheese — which is unusual — but if there's anyone who can pull that off, it's Gordon Ramsay.
4. Rihanna: Because her recipe calls for mustard, ketchup, and grated raw onion (among other untraditional add-ins), so I knew it was going to be interesting. Also, it's RIHANNA. Need I say more?
Alice Yoo / BuzzFeed
Ben Gabbe / Getty Images
Then she adds five types of cheese: shredded Muenster, Monterey Jack, mild and sharp cheddar, and cubed Velveeta…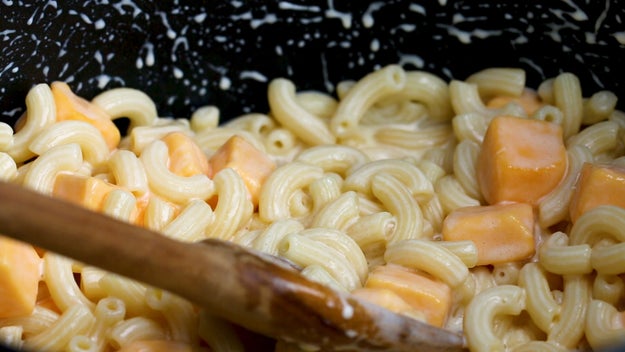 …along with eggs, half-and-half, and seasoning. It all goes into a buttered baking dish, and is topped with EVEN MORE cheese and butter, then is baked until bubbling.
Ade Mangum / BuzzFeed
So, did it live up to the hype?
YES. It was really good. Because the cheese wasn't fully melted or made into a sauce, the finished product had little pockets of melted cheese that made it super decadent. It was creamy, rich, and exactly what I want mac 'n' cheese to taste like. This was the epitome of comfort food and made me very happy while eating it.
Rating: 🧀🧀🧀🧀
Get Patti LaBelle's recipe (and watch her make it).
Jesse Szewczyk/BuzzFeed
Frazer Harrison / Getty Images
Ethan Miller / Getty Images
Ade Mangum/BuzzFeed
Dimitrios Kambouris / Getty Images
Jesse Szewczyk/BuzzFeed
Ade Mangum/BuzzFeed
SO WHO WON?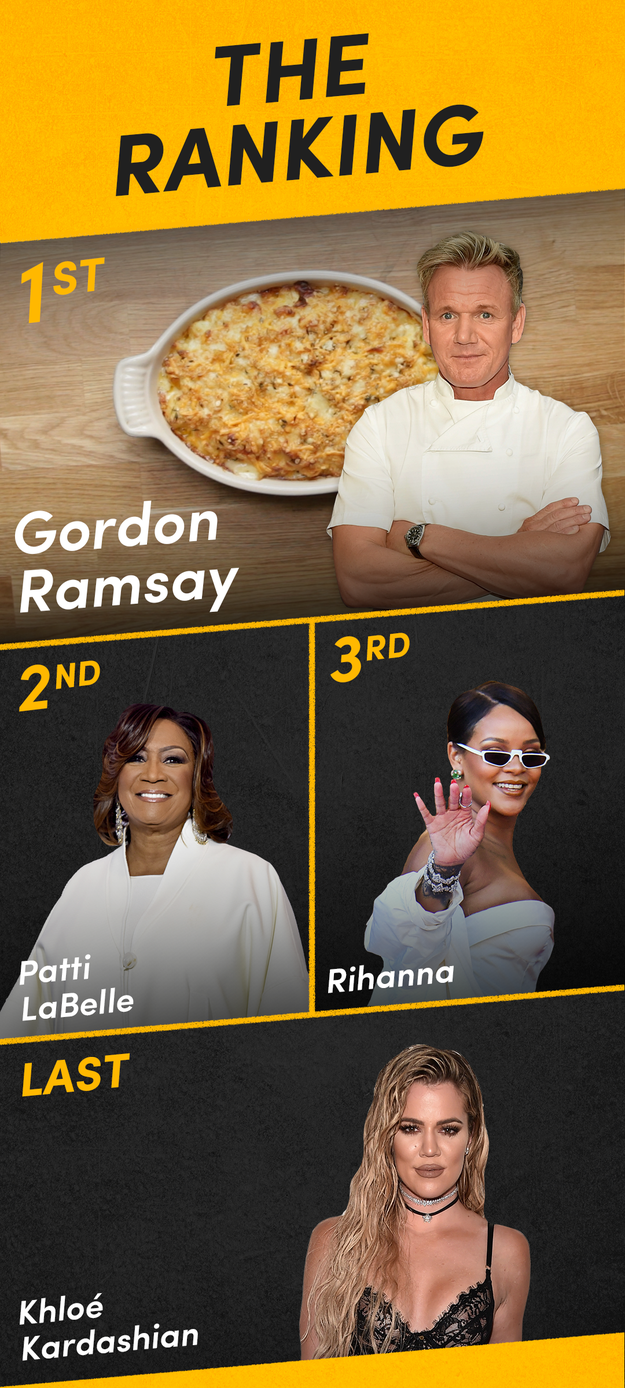 THE WINNER: Gordon Ramsay
This mac was flavorful, rich, and had the perfect ratio of crispy and creamy textures. The cauliflower was a surprisingly delicious addition that actually worked. It tasted like something you would get at a nice restaurant — the fancy cheeses gave it a ton of flavor — and I'll certainly be making it again. Get the recipe.
SECOND PLACE: Patti LaBelle
This was a great, classic mac 'n' cheese recipe. It's loaded with all kinds of cheese (five whole cups!), is insanely decadent, and certainly not for calorie counters — but isn't that what makes mac 'n' cheese taste so good? Get the recipe.
THIRD PLACE: Rihanna
I'll admit, I was skeptical of this recipe — but it was actually pretty darn good. The combination of ketchup, onion, and mustard made it taste kind of like a cheeseburger casserole, and the scotch bonnet pepper sauce gave it the perfect hit of heat. Get the recipe.
FOURTH PLACE: Khloé Kardashian
Sure, these mini macs looked cute, but they didn't taste all that great. They had too much cheese and flour in them, so it made the sauce really thick and tight (instead of creamy). Combine that with baking them and they pretty much turned into little hockey pucks. These were definitely not my favorite. Get the recipe.
Alice Yoo / BuzzFeed
• The Ultimate Mashed Potatoes Recipe
• The Ultimate Scrambled Egg Recipe
• The Ultimate Chocolate Chip Cookie Recipe
• The Ultimate Stuffing Recipe
• The Ultimate Pancake Recipe
• The Ultimate Guacamole Recipe
• The Ultimate Omelet Recipe
Source: https://www.buzzfeed.com/food.xml