Here's what our editors and writers are making in their own kitchens.
Hannah Wong / BuzzFeed
Ramen Noodles With Miso Pesto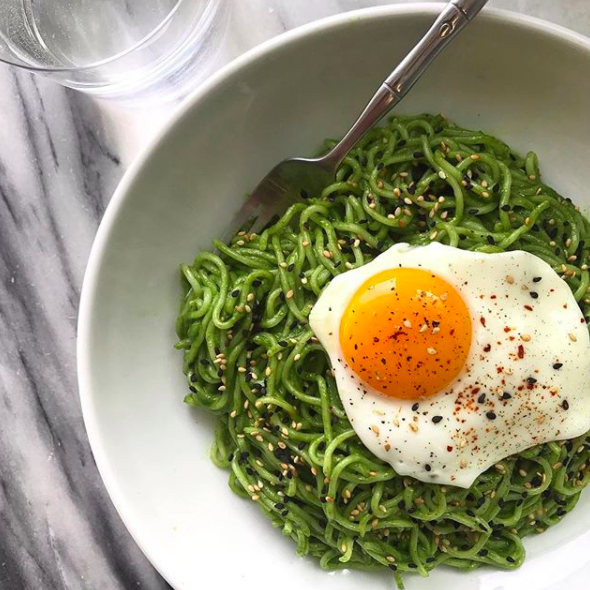 Yes, I know — this recipe looks equal parts delicious, strange, and maybe even off-putting to some people — but hear me out: It's legit so good! The pesto comes out bright green, herbaceous, and super savory — the perfect sauce for coating springy ramen.
The pesto is made with spinach, cilantro, miso, garlic, sesame oil, and lemon juice — you just throw it all in the blender and toss it with cooked ramen. I was lucky enough to find fresh ramen in my grocery store, but the dried blocks that cost 10 cents would work totally fine. I decided to top mine with a fried egg (because literally everything is better with an egg on top) but the noodles are delicious all by themselves or served as a side dish. — Jesse Szewczyk
Get the recipe here.
Jesse Szewczyk / BuzzFeed
Deb Perelman / smittenkitchen.com
Pressure Cooker Coconut Curry Chicken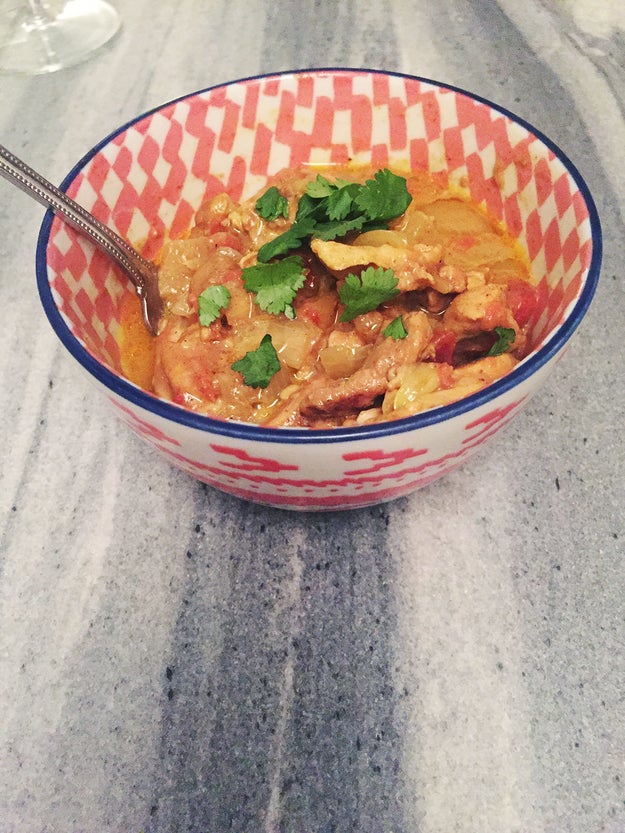 Sometimes the Instant Pot (which I reviewed last year!) is good for dinner in a snap. Honestly, that's usually what I use it for — but when I saw Melissa Clark's recipe for Pressure Cooker Coconut Curry Chicken in her Instant Pot cookbook, it sounded so good that I had to try it even though it was pretty labor intensive.
I mean, I don't know, was it labor intensive? Reader, the last time we spoke, I did not have a baby. Now I have a 5-month-old and ~everything~ is labor intensive. So I'm going to go ahead and say that this is not a weeknight meal, now that weeknight meals take at most 15 minutes or else it's cheese and crackers for dinner.
I digress: If, like me, you need a kitchen win via a very forgiving recipe with excellent results that will make your house smell like heaven and have your husband thank you profusely and make you really just feel like a kick-ass cook again after being out of the game for a while, this one's a winner.
I used a can of tomatoes instead of fresh. I accidentally doubled the coconut milk. I eyeballed every single spice, including my turmeric that expired in 2016 (which I learned after adding it). And I can't wait to make it again because it was that good. — Rachel Christensen
Get the recipe here (you need to subscribe to NYT Cooking to have access to it).
Rachel Christensen / BuzzFeed
Homemade Dumplings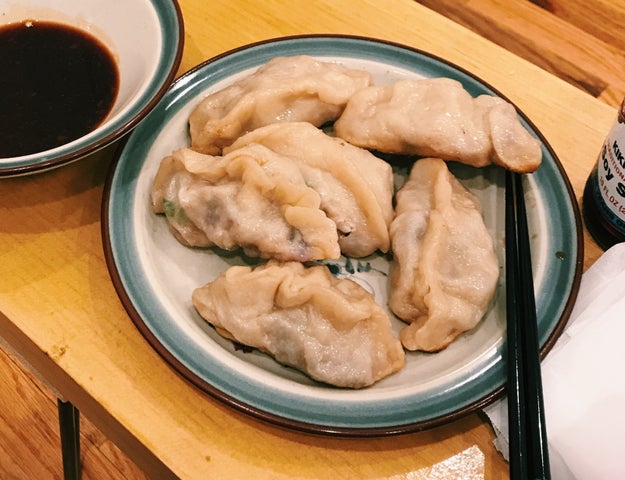 I was feeling adventurous yesterday after watching Ugly Delicious, David Chang's new Netflix series. I had been craving dumplings for a few weeks, so I decided that I would try my hand at making them. They were easy to make, but it was hard to make them look pretty. I think I rolled the dumpling dough out a little too thick, but other than that, they were delicious. I added some white onion and a few mushrooms to the pork mixture. I would try making them a few times before serving them to anyone – mine definitely ended up being Ugly Delicious. — Hal Rohrer
Get the recipe here.
Hal Rhorer / BuzzFeed
Salted Butter Chocolate Chunk Shortbread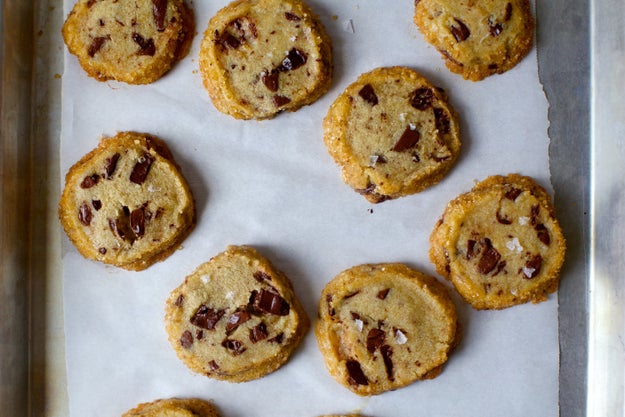 These aren't just cookies, they're a movement. I've honestly never heard more hype about a cookie than I did about these, and unlike most hyped-up things, these delivered. Two different coworkers (and countless Instagram friends) made these within a week, and after eating several crumbly, buttery, utterly perfect ones that my editor made, I had to try making them on my own. The ingredients are pretty simple — eggs, flour, butter, etc. — except for the turbinado sugar, which is essential for the crunchy edges. Making the actual cookies is not that hard, either. You basically dump things in a stand mixer, roll the dough into a log, refrigerate it for two hours (I know it sounds extra, but it's worth it), and then slice it into quarter-inch rounds before baking. That's it!
The key, though, is to take time to make sure everything is done properly. The first time I made these, I didn't mix the dough long enough, and I didn't properly refrigerate it, which resulted in crumbly dough that just refused to be sliced or formed into cookies (what I did manage to bake was still delicious, a testament to the greatness of this recipe). The second time, I righted those wrongs — really carefully dicing the butter, wrapping the dough in plastic wrap before putting in the fridge, and slicing the cookies into evenly-sized pieces made a huge difference.
And honestly? If you have the time and a little bit of patience, these cookies might change your life. I was never looking for a chocolate chip cookie replacement, but now, I have one. These are just so luxe and delicious and satisfying, and it's so hard to stop at just one. The flaky salt that goes on top balances the rich chocolate chunks so well, the dense, buttery shortbread is nothing short of heaven, and the crunchy edges border on sublime. I brought these to friends and family after making them, and I know they weren't just being nice when they said they were amazing. And as I said, they're a ~thing~. Almost everyone who tried them said, "Oh, I've heard about this cookie!" Its reputation precedes it, and its flavor lasts a long time after the last crumbs are licked off the plate. — Terri Pous
Get the recipe here, or buy Alison Roman's Dining In cookbook here.
Deb Perelman / smittenkitchen.com
Source: https://www.buzzfeed.com/food.xml