Eggs = the ultimate cooking test.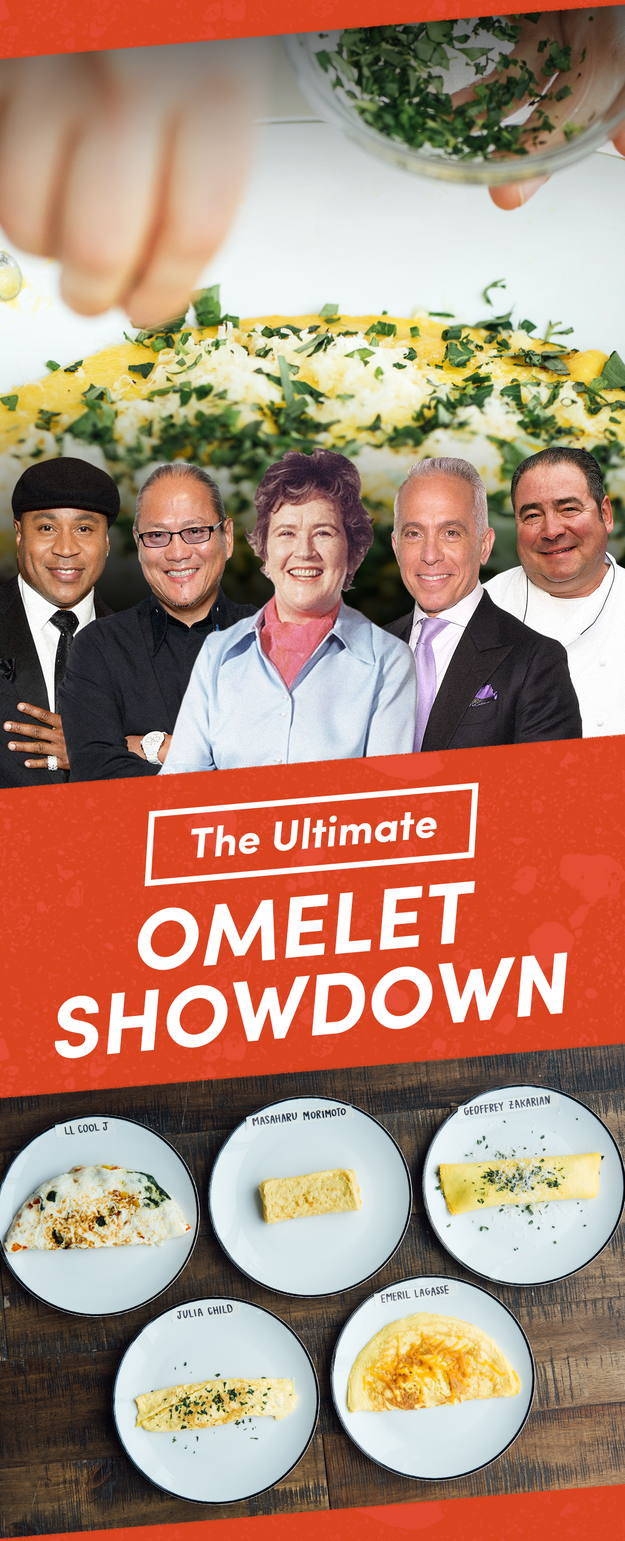 Alice Yoo / BuzzFeed
For many chefs, omelets are the ultimate cooking test…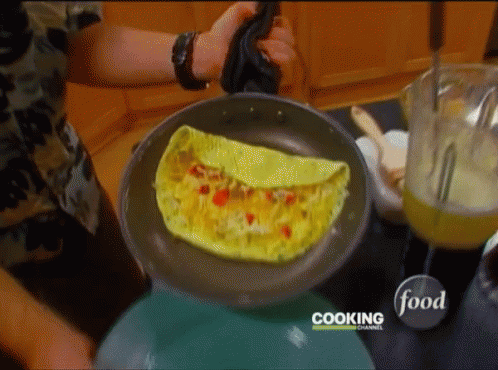 That's because omelets are one of those deceptively simple things where technique really does matter — it all comes down to the details.
Food Network
So in an attempt to perfect my omelet-making skills (and explore techniques I've never tried before), I decided to test five famous methods.

This was my lineup:
1. Emeril Lagasse: Because he makes his omelet in a blender with heavy cream and finishes it with lots of cheese, so it sounded both delicious and accessible.
2. Julia Child: Because if there's anyone who knows how to cook an omelet, it's Julia Child. Her classic French omelet not only seemed tasty, but kinda magical — you just add your eggs to a hot pan, swirl 'em around, and it comes together without even touching it. I needed to try it.
3. Geoffrey Zakarian: Because his omelet technique was too weird not to try. He actually adds frozen butter to his eggs and slowly lets it melt in, so I was both confused and intrigued.
4. Masaharu Morimoto: Because Morimoto is a culinary guru (and an Iron Chef), and his rolled Japanese omelet was something I've never made before. It looked stunning and a bit difficult to make — but would it be worth the effort?
5. LL Cool J: Because I wanted a wild card. I mean, how funny would it be if his healthier egg white omelet turned out to taste the best?
Alice Yoo / BuzzFeed
Larry Busacca / Getty Images
Thomas J. Gibbons / Getty Images
Astrid Stawiarz
Mike Pont
Taylor Miller/BuzzFeed
Taylor Miller/BuzzFeed
Jason Merritt / Getty Images
SO WHICH TECHNIQUE DID I LIKE BEST?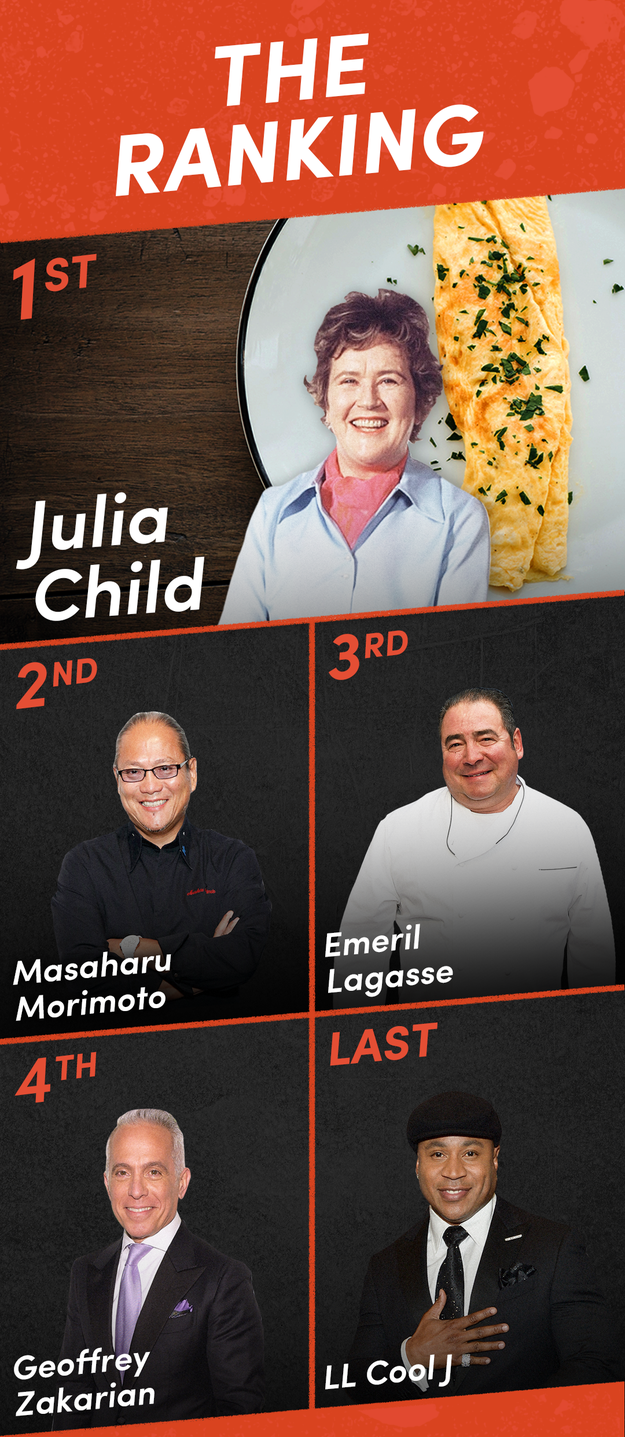 MY FAVORITE: Julia Child
Listen, I know this omelet might seem kinda boring, but it's absolutely perfect in its simplicity. Not only was it by far the easiest and quickest to make, but it had a wonderful texture that was still soft and creamy in the middle — a true classic. If you're looking for a delicious omelet that's simple and easy to make, this is the technique for you. Get the recipe here.
ALSO LOVED: Masaharu Morimoto
So this is hard to compare to Julia's French method, but I loved it just the same (but in a different way!). It was super savory with the slightest bit of sweetness — perfectly balanced and complex. If you're expecting a standard, diner-style omelet, this is not for you — but if you wan't something with a ton of flavor and are up for a challenge, I recommend you give this a try. Get the recipe here.
LIKED: Emeril Lagasse
This one is good, but pretty boring. It's your classic American omelet made with a generous amount of cheddar cheese — so what's not to like? It's standard, comforting, but nothing special (and definitely missing his signature BAM! flavor). Get the recipe here.
WAS JUST OK: Geoffrey Zakarian
This omelet was by far the most beautiful, but it wasn't the most delicious. Freezing the butter didn't seem to do much, and the main flavor was the overpowering cheese and herb mix. While I did like this one, I didn't love it and found it to be a lot of work for a mediocre omelet. Get the recipe here.
NOT FOR ME: LL Cool J
I didn't love this omelet — in fact, I kinda hated it. It tasted bland and overly healthy, and that's something I'm not looking for in an omelet (but is probably why he has a killer six-pack and I don't). I get that this is a completely different dish (and that egg whites are inherently not that tasty), but I still think it sucked. Sorry! Get the recipe here.
Alice Yoo / BuzzFeed
• The Ultimate Mashed Potatoes Recipe
• The Ultimate Scrambled Egg Recipe
• The Ultimate Chocolate Chip Cookie Recipe
• The Ultimate Stuffing Recipe
• The Ultimate Pancake Recipe
• The Ultimate Guacamole Recipe
Source: https://www.buzzfeed.com/food.xml