Traveling is just an excuse to eat.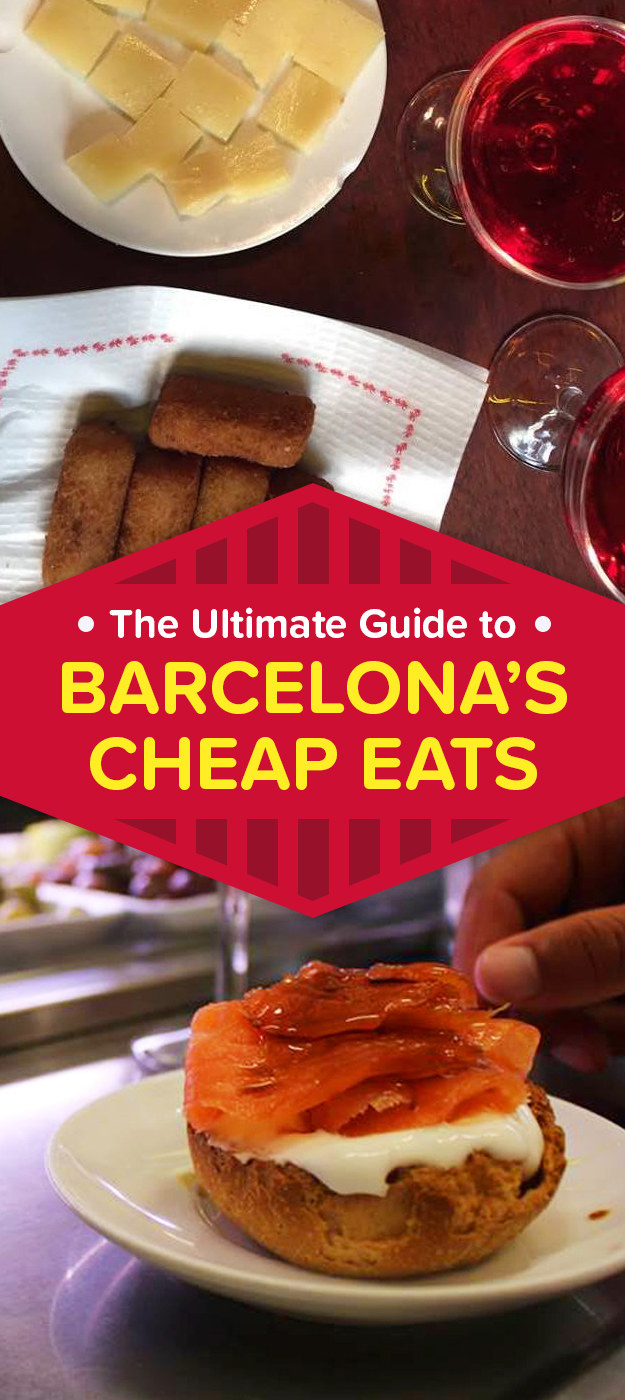 Hannah Wong/BuzzFeed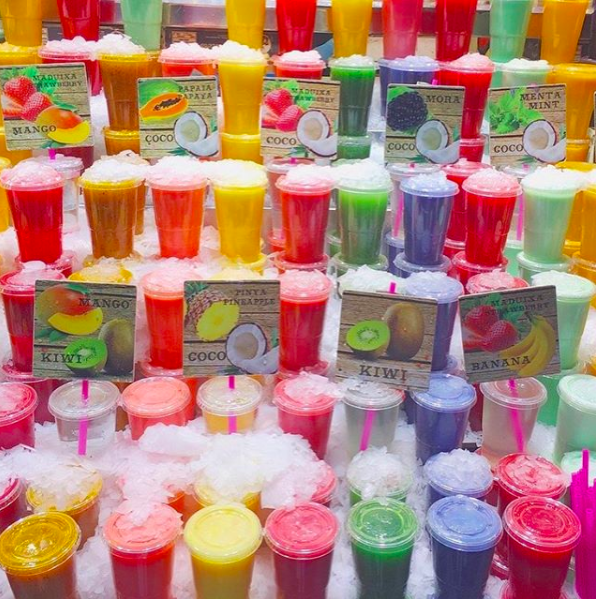 As you wander through the Boqueria you'll find stall after stall selling colorful fruit juices. Do yourself a favor and try one (if you can't decide, go for the coconut). It'll only set you back €1.
@hannahloewentheil via Instagram / Via instagram.com
There's no such thing as bad gelato…but there is really, really, really exceptional gelato, and that's what you'll find at Gelaaati di Marco. A couple euros will get you a cup or cone that's literally overflowing with creamy, perfect gelato.
@svartankare via Instagram / Via instagram.com
A Bocadillo from Bo de B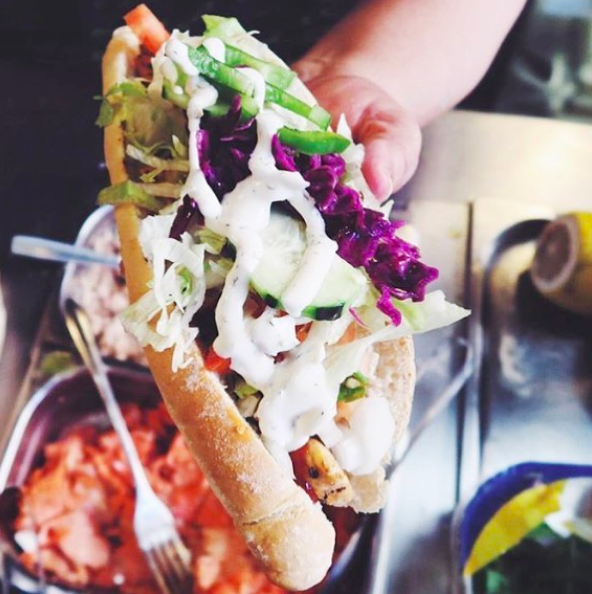 The Spanish eat sandwiches, or bocadillos, just about any time of day, including breakfast. The giant creations at Bo de B are some of the best in the city. About €5 will get you an insane sandwich that can easily stretch into a second meal.
@bodebcn via Instagram / Via instagram.com
Wine and vermouth bottles line the walls of this tiny, standing-room-only tapas bar. Come here for the montaditos, which are open-faced sandwiches you can eat in about two bites. The smoked salmon version — served on crispy bread with goat cheese, truffle honey, and balsamic — will blow you away.
@_steph.lai via Instagram / Via instagram.com
While churros y chocolate is more popular in Madrid, you can still find some very decent options in Barcelona. Some of the best come from a tiny storefront in the Gracia neighborhood. The chocolate-filled churros are a perfect on-the-go snack, but nothing beats the hot chocolate dipping sauce.
@yimokenpi via Instagram / Via instagram.com
This refreshing drink has been a staple in Spain for hundreds and hundreds of years. It's made with tiger's nuts (a crop that are also called earth almonds), and it tastes like a sweeter, thicker, creamier version of almond milk.
@monicaautet via Instagram / Via instagram.com
@manos_pap via Instagram / Via instagram.com
Prawn Dumplings from Mosquito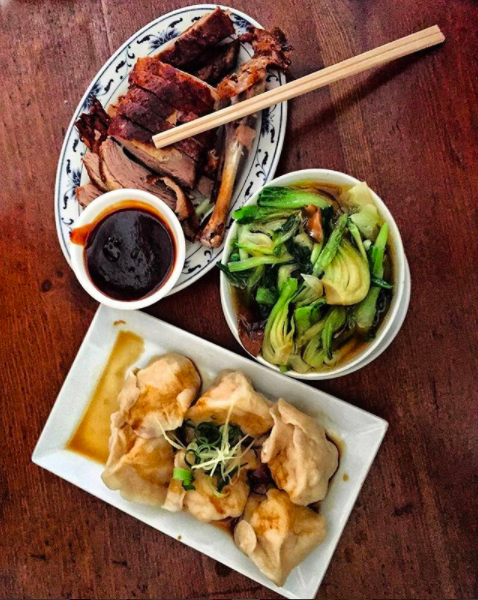 Tapas get an Asian twist at Mosquito, where you can chow down on dim sum and noodle soups. Just make sure to order dumplings, which you can get filled with prawns, veggies, or pork. Expect to fill up and still spend under €20 for two people.
@xavicuadrado via Instagram / Via instagram.com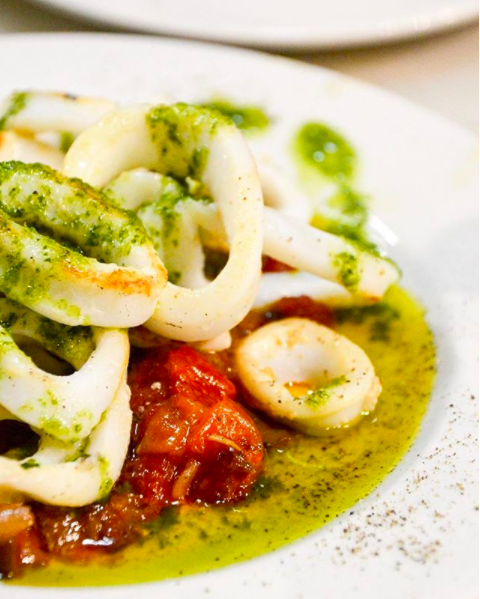 When in Barcelona, you need to eat grilled squid, and you should do it at El Xampanyet in the trendy born neighborhood. Order it with some pan con tomate (crispy bread rubbed with garlic and tomato then topped with olive oil and salt), and wash it down with the house cava.
@appetiteandotherstories via Instagram / Via instagram.com
Vegan Cupcake from Chök
Everything at Chök is melt-in-your-mouth amazing, from the doughnuts to the chocolate covered potato chips. Don't miss the rich and decadent chocolate cupcakes, which just happen to be completely dairy-free.
@eatsfreefrom via Instagram / Via instagram.com
Tucked away into the narrow streets of the Gothic Quarter, you'll be summoned into this storefront as soon as you catch a whiff of the freshly baked dough. The warm and flakey empanadas are the perfect grab-and-go snack while you explore the barrio.
@marionaeats via Instagram / Via instagram.com
Tacos de Arrachera from La Taqueria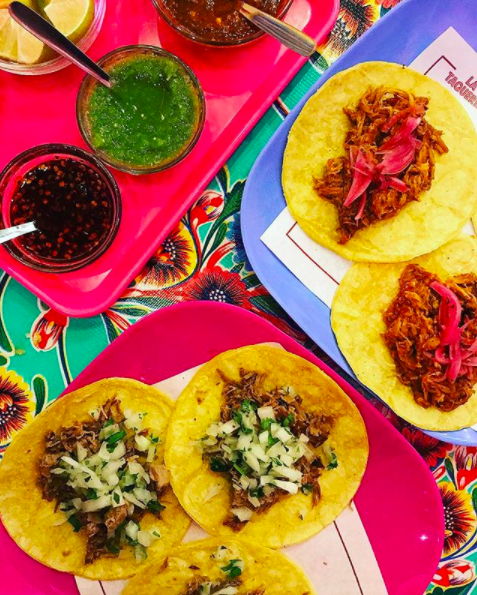 You probably didn't come to Barcelona for the tacos…but then again, you haven't tried La Taqueria yet. A few of these babies makes for the perfect mid-day snack, and it won't make a big dent in your wallet.
@cocinafitness_bynudiru via Instagram / Via instagram.com
Strawberry Pistachio doughnut from La Donutería
Do it for the instagram, and because these doughnuts are out of this world.
@mademoisellevit via Instagram / Via instagram.com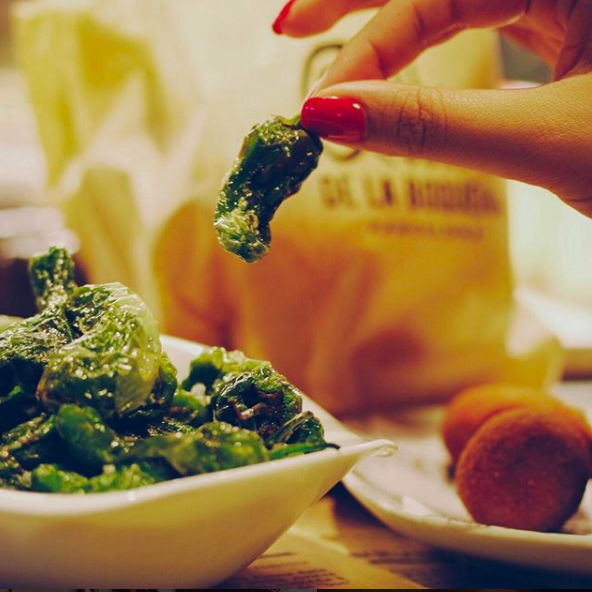 The best thing about tapas is that they're usually pretty affordable. Grab a stool at this stand in the Boqueria market and load up on a few plates. The spicy shishito peppers are particularly delicious. Plus, now you can say you ate vegetables at least once on your trip to Barcelona.
@reena_lifestyleenthusiast via Instagram / Via instagram.com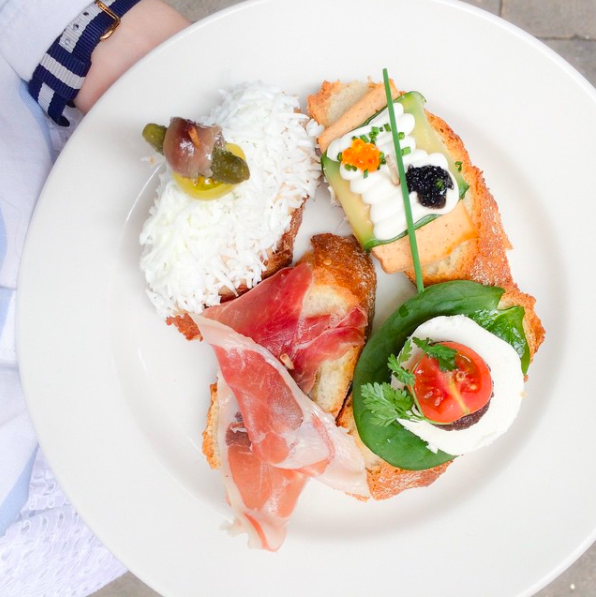 Pintxos are Basque-style tapas, which usually consist of some fancy toppings — like jamon iberico, smoked salmon, goat cheese, and veggies — on top of sliced baguette. At Euskal Etxea, you help yourself to as many pintxos as your stomach can handle (most are about a euro or two). Then to pay, you just count the toothpicks.
@daphnemodeandthecity via Instagram / Via instagram.com
Sweet Potato Bravas from Bar Centro
Sweet potatoes > regular potatoes, and the same goes for patatas bravas.
@oliviarosebcn via Instagram / Via instagram.com
Kiosko is one of the most popular burger spots in the city, and the menu has something for everyone (including lots of vegetarian options). Don't miss "The Roost," a chicken burger topped with whipped avocado and smoked bacon.
@marcellomallet via Instagram / Via instagram.com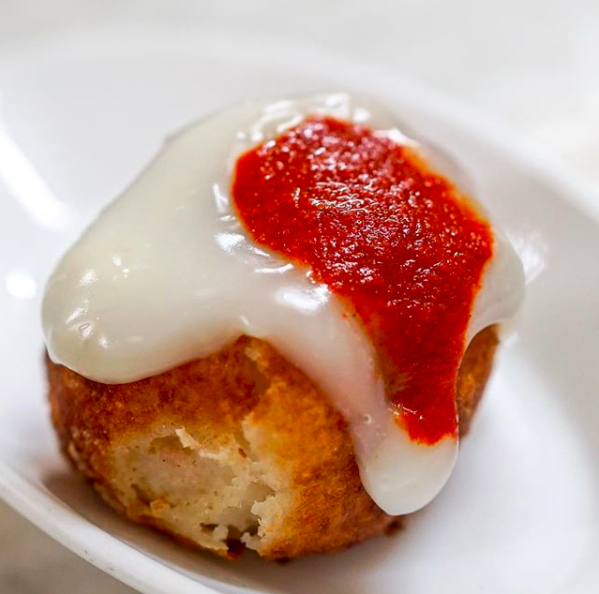 This nondescript tapas bar near the beach is nothing fancy. It's the kind of place where you wash down simple grilled seafood with a cold Estrella. Whatever you do, order the bombas — they're balls of fried mashed potato topped with aioli and spicy brava sauce. You'll want seconds…and thirds.
@cbyyy via Instagram / Via instagram.com
Who cares if the sun is out almost all the time? It's still perfectly acceptable to crave ramen. Ramen-Ya HIRO is the must-try spot in the city for rich, spicy bowls of ramen noodle soup.
@maximilianoizq via Instagram / Via instagram.com
Source: https://www.buzzfeed.com/food.xml