Better storage = longer shelf life 🍗
We hope you love the products we recommend! Just so you know, BuzzFeed may collect a share of sales from the links on this page. And FYI — prices are accurate and items in stock as of time of publication.
Leftovers are basically gifts from you to future you, and future you loves food. But unless you've got the right products for storing your excess portions, chances are you'll miss out on the maximum freshness you rightfully deserve.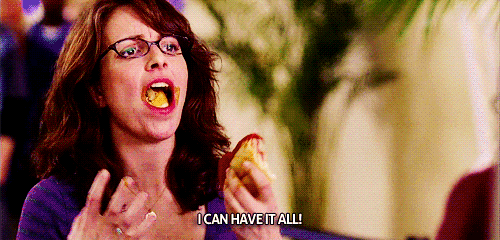 Below are our favorite picks to keep your leftovers safe for as long as possible without breaking the bank.
NBC
A three-piece set of nesting tulip bowls with locking lids that make storing a breeze.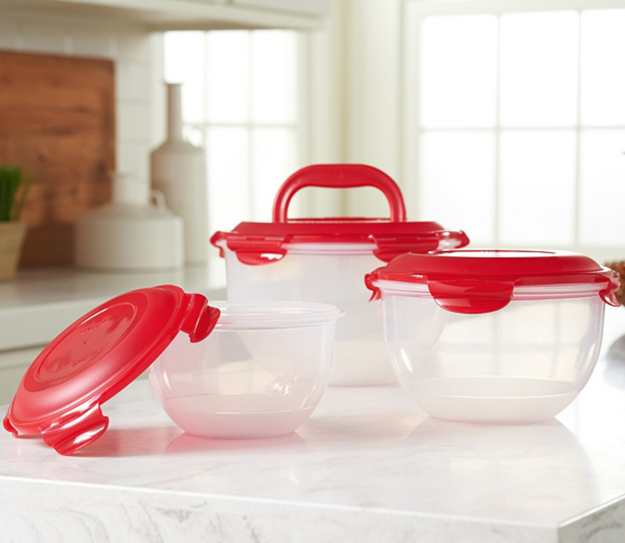 Promising review: "I have just started buying Lock & Lock and boy have I been missing out! This set is great and all of the nestable sets are awesome because they are easier to store." —goldie69
Get it from QVC for $16.58.
QVC
A three-piece set using ~FreshVent technology~ to regulate oxygen and carbon dioxide, keeping produce fresh up to 80% longer!
Promising review: "Works great! I bought the large one to start off with. I put a bag's worth of spinach in it over a week ago and it is still just as crisp tonight as it was when I first put it in there." —Lovecooking101
Get it from Jet for $19.98.
Jet
A two-cup container set made of glass (a non-porous surface) to avoid those pesky stains and odors.
Promising review: "Perfect size for packing lunch. These work better than plastic and last much longer too! They come in different sizes, but I find the two-cup size is perfect for taking my lunch to work. And they're dishwasher, freezer, and microwaveable safe." —vnlasgr
Get the set of three containers and lids from Jet for $10.39.
Jet
A six-piece set of bowls with an "Easy Match" color-coded system to keep track of corresponding lids.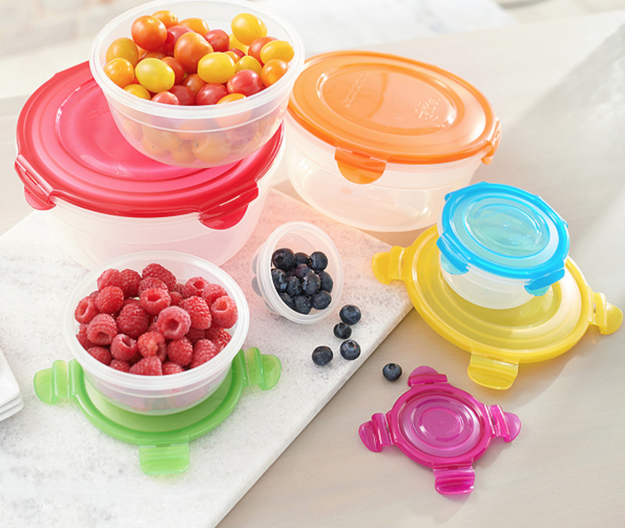 Promising review: "I have always liked Lock & Lock but what I really like about this set is that they stack inside each other and the sizes are awesome — from very small to an average-sized bowl. The colors are great and the dot that shows which color lid fits is a cool idea." —iesel
Get it from QVC for $16.45.
QVC
Promising review: "This set is really well made. They are thick and sturdy. The tops are easy to latch and create a great seal because of the soft rubber edging underneath the lids. I have had them for over a month and I love them." —Lizzie
Get it from Jet for $17.29.
Jet
A secure 10-piece mini dome set that's perfect for tiny snacks and little bites on the go.
Promising review: "I don't like my fruit getting bruised when I carry it to work. It worked wonderfully for my peach, orange, avocado and blueberries. I just stack them separately with each matching lid in the pantry and it works great for me." —Geani
Get it from QVC for $20.50.
QVC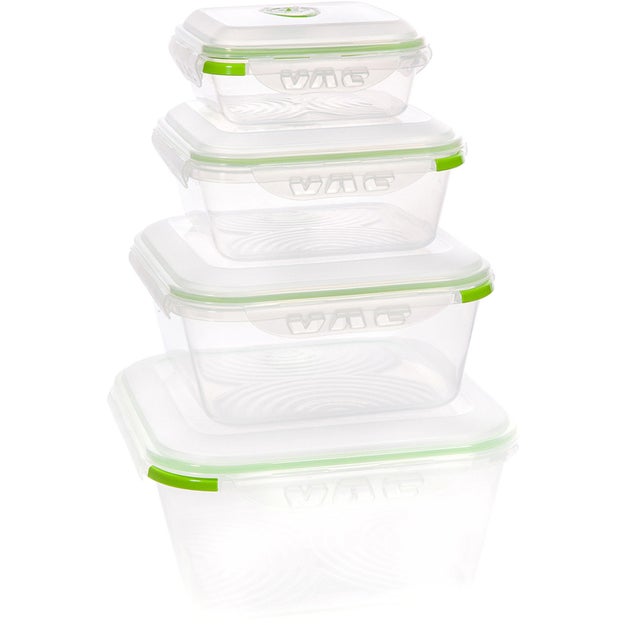 Promising review: "I love these storage containers! They are easy to store and do not take up cabinet space since they fit right into one another. I prep food for the week for my little family and this definitely keeps the food much fresher. My food lasts about 3-5 days longer in these containers." —ChellyBo76
Get it from Walmart for $21.67.
Walmart
A secure lid made from food-grade silicone, because the clinginess of plastic wrap will drive you crazy.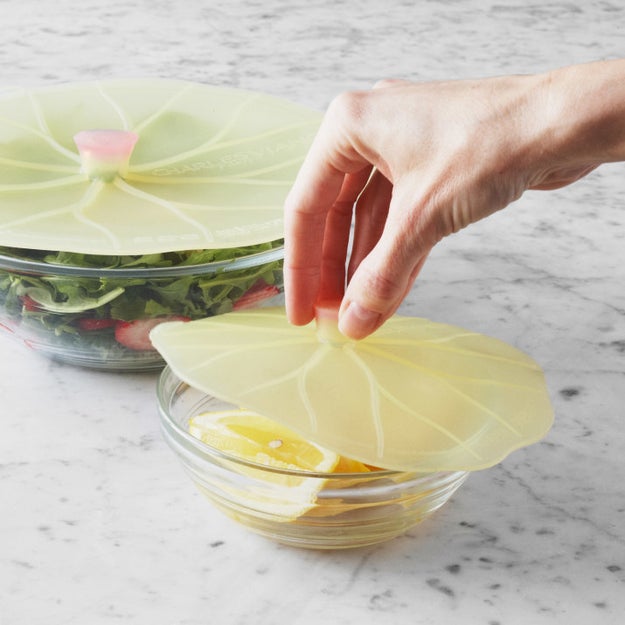 Promising review: "I have seen a lot of products that are a replacement to plastic wrap. But this is as simple as putting the flower on top and it actually seals to the bowl. The seal is stronger than you would expect. Great value!" —KristaK
Get it from Sur La Table for $9.95 or Amazon for $11.70.
A 10-piece set with silicone seals that prevent leaks so you don't ruin your bag AGAIN.
Promising review: "These are really great to put salads in and to encourage salad-eating away from home. It is easy to find the lids in the drawer because they are a different shape than my other ones." —heritagechickenfarmer
Get it from Macy's for $17.99.
Macy's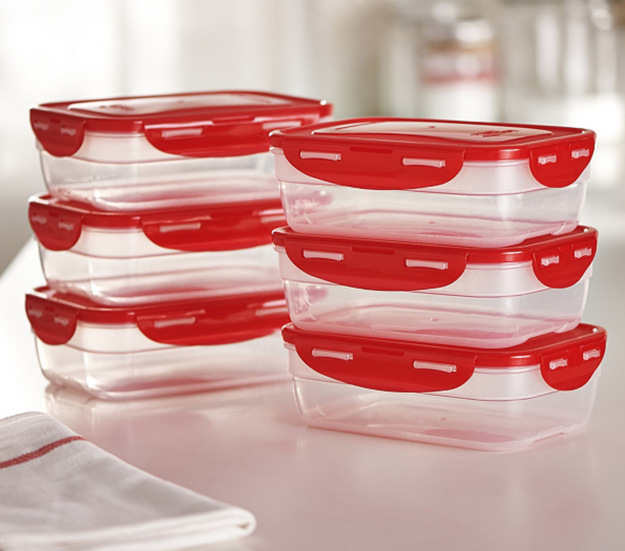 Promising review: "I love this rectangle storage set so much that I've ordered a set for my son and daughter-in-law. This is the perfect size; it holds about four cups, stacks nicely in my fridge, and the best part is that it's nesting, so it doesn't take up too much of my limited storage space." —The Organizer
Get it from QVC for $17.60.
QVC
A stackable four-piece set with handles — and it's dishwasher safe and easy to clean.
Promising review: "This is my third set in nine months. I'm starting to buy for other families households now. Fantastic. I use in my pantry, freezer, and fridge. Washes in a dishwasher or by hand like a dream." —erinhovland
Get it from QVC for $19.98.
QVC
A 12-piece set that's absolutely perfect for side dishes and has twistable lids to ensure a tight fit.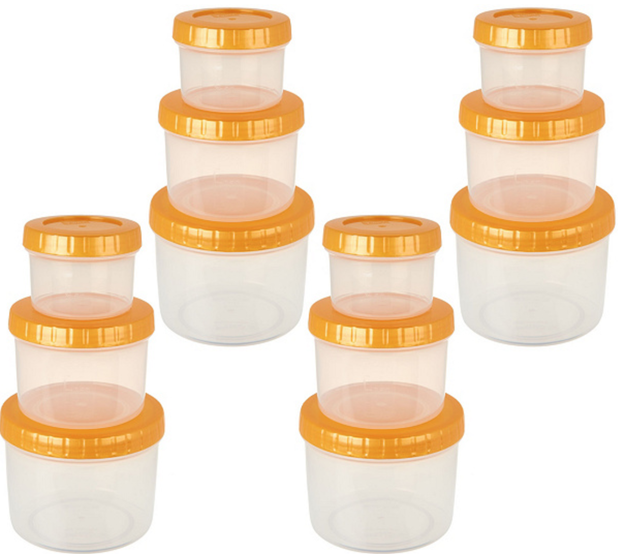 Promising review: "I desperately needed these as I often have left over rice, veggies, or salad that would take up too much room in the fridge in conventional larger containers. I will probably come back for another set." —Claudiabell
Get it from QVC for $19.98.
QVC
QVC
Promising review: "These jars are of high quality and seal well. They are perfect for gift giving. I particularly appreciated that they came in heavy cardboard boxes, with each jar having its own cell, so they will be easy to transport." —Nancy
Get it from Jet for $10.97 or Amazon for $15.16.
Jet
Promising review: "Great glass storage set that is also microwavable and oven-safe. Fantastic price and plastic lids included too." —treehugger17
Get it from Jet or Amazon for $22.76.
Jet
A large-mouth tub for smooth pouring. It's BPA-free and holds almost two gallons of leftover snacks.
Promising review: "I already had three of these Rubbermaid cereal keepers for seven years and liked them a lot. When I saw this price, I bought ten more. Excellent seal and very comfortable grip. They fit perfectly on top of my refrigerator." —thecasualconsumer
Get it from Jet for $7.17 or Amazon for $11.46.
Jet
A set of storage blocks that snap together in multiple configurations to fit in nearly any lunch box.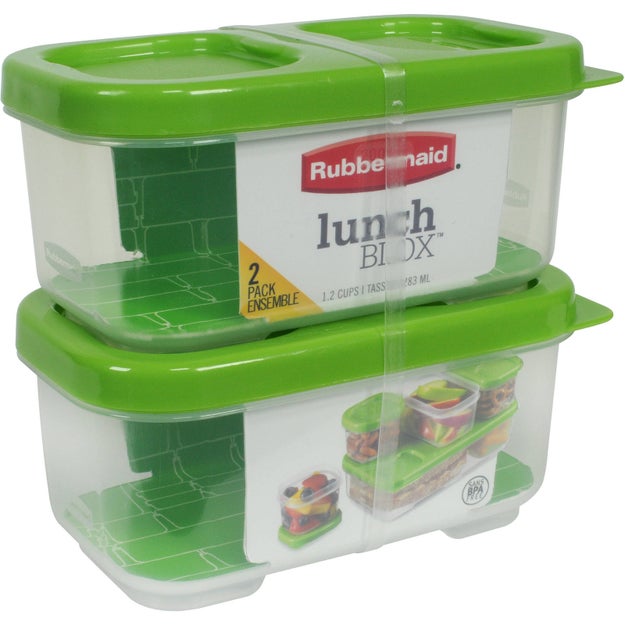 Promising review: "The lunchblox are perfect for packing my son's school lunch and special diet as I can trust them not to leak out any oils, and the orderly format of the set helps to make his lunch look 'fun' instead of weird." —SBGF
Get a two-pack from Walmart for $19.83 or Amazon for $2.39.
Walmart
Walmart
Uncommon Goods
Promising review: "These are so handy for those tiny dabs of leftovers that are just too good to toss out. I've found so many uses for them it's impossible to list them all. Easy to see what's inside, and they are great for many uses." —ChynaRose
Get it from Target for $5.49 or Amazon for $11.48.
Target
Jet
A glass container that can withstand up to 450°F and is even freezer safe too.
Promising review: "I bought 15 of these so I could meal prep for three weeks of lunches. They are awesome. No leaks." —GrandmaBear
Get it from Target for $5.29.
Target
Kohl's
Reviews have been edited for clarity.

Ryan Pattie/BuzzFeed
Source: https://www.buzzfeed.com/food.xml