5 Easy No-Sandwich Lunch Ideas You Can Pack Your Kids
Tired of making PB&J every day?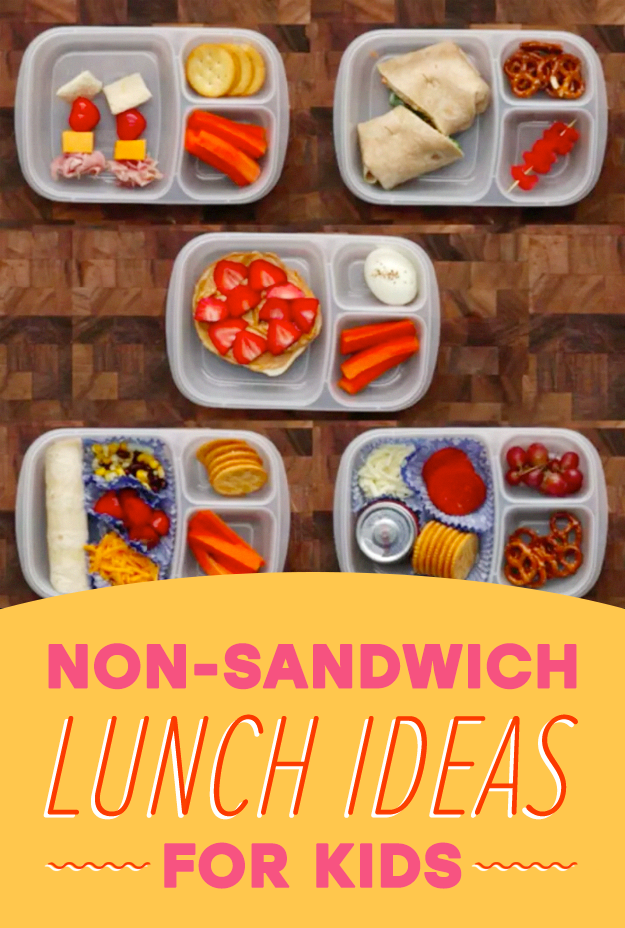 Zoë Burnett / BuzzFeed
Packing your kid's lunch can get ~boring~
Screen Gems
It seems that every day it's the same darn thing.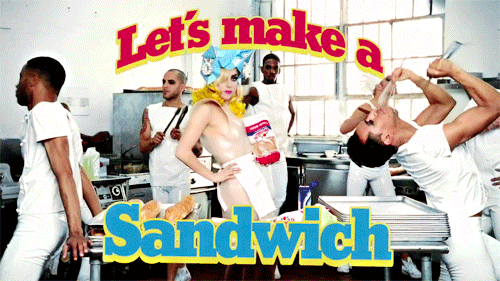 You guessed it: a sandwich 😑
Streamline / Via But it doesnt have to be!
Sure, PB&Js are great, but how many sandwiches can you make before you and your kid go crazy?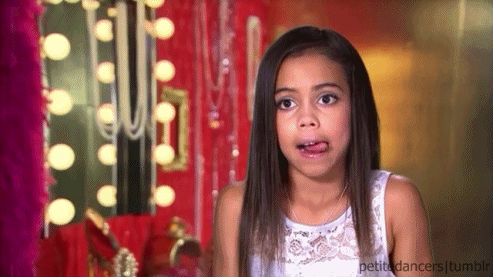 Lifetime
With a little creativity (and a bit of planning), you can make your kid a new and exciting lunch every day of the week without making a single sandwich.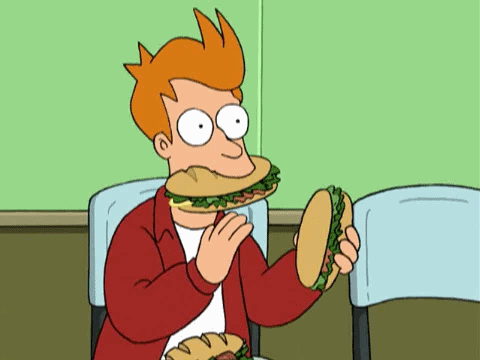 Comedy Central
Ham and Cheese Kebabs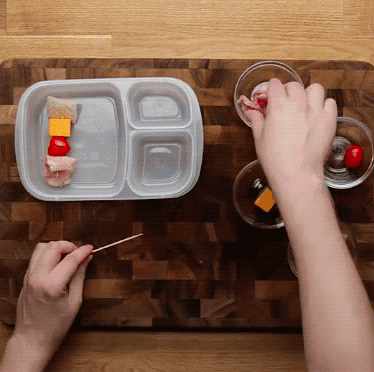 HAM AND CHEESE KEBABS
Serves 1
INGREDIENTS
2 cherry tomatoes, cut in half on a diagonal
2 slices of ham
2 cubes of cheddar cheese
2 pieces of diced sandwich bread
1 orange (optional)
Crackers (optional)
Carrots sticks (optional)
Place one cherry tomato (cut-sides facing each other), a slice of ham, a cube of cheddar cheese, and a piece of bread on each skewer. Serve with an orange and carrot sticks.
Devin Rogerino/BuzzFeed
Pro tip: Slice the orange like this so that it's super easy to unroll and eat later.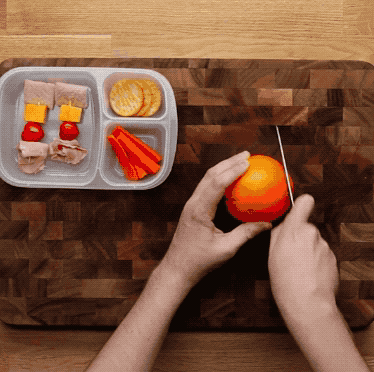 Note: Do this by cutting the top and bottom off, then making a small cut through the skin. Pull the cut apart so it opens slightly (without tearing the orange in half) and roll it back up.
Devin Rogerino/BuzzFeed
DIY Pizza Lunchables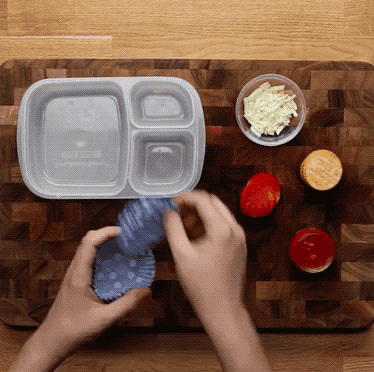 DIY PIZZA LUNCHABLES
Serves 1
INGREDIENTS
5 crackers
¼ cup marinara sauce
¼ cup shredded mozzarella cheese
5 slices of pepperoni
Cupcake liners (to separate the ingredients)
Grapes (optional)
Crackers (optional)
Place marinara in small container (we reused an old baby food jar) and place in lunchbox. Place crackers, mozzarella cheese, and pepperoni in cupcake liners next to it. Serve with grapes and crackers.
Devin Rogerino/BuzzFeed
Peanut Butter & Strawberry Loaded Bagel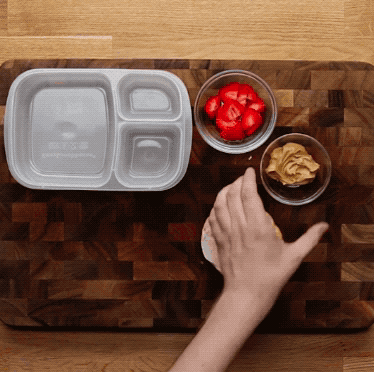 PEANUT BUTTER & STRAWBERRY LOADED BAGEL
Serves 1
INGREDIENTS
Half a plain bagel
2 tablespoons peanut butter
¼ cup sliced strawberries
1 hard-boiled egg (optional)
Carrot sticks (optional)
Spread bagel with peanut butter and top with strawberries. Serve with a hard-boiled egg and carrot sticks.
Devin Rogerino/BuzzFeed
Build-Your-Own Tacos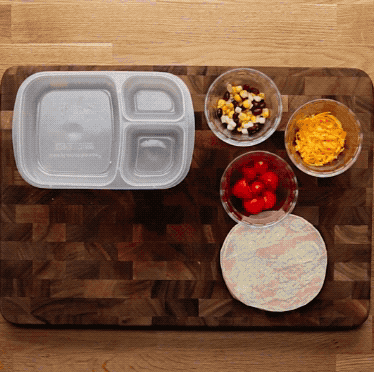 BUILD-YOUR-OWN TACOS
Serves 1
INGREDIENTS
2 mini tortillas
2 tablespoons black beans, drained
2 tablespoons frozen corn, thawed
¼ cup shredded cheddar cheese
¼ cup grape tomatoes, cut in half
1 apple, sliced (optional)
Carrot sticks (optional)
Crackers (optional)
Roll tortillas and place in lunch box. Combine black beans and corn and place in a cupcake liner in the lunch box. Place cheddar cheese and tomatoes in two more cupcake liners and put in the lunch box. Serve with a sliced apple and crackers.
Devin Rogerino/BuzzFeed
Pro tip: To prevent your apple slices from browning, use a rubberband to tie them back against the core.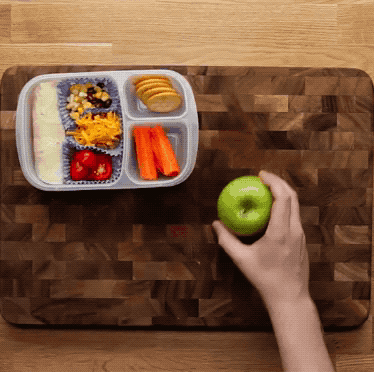 This will prevent them from being exposed to air, and browning quickly.
Devin Rogerino/BuzzFeed
Kid-Friendly Tuna Wrap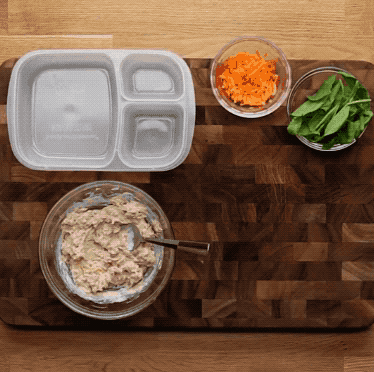 KID-FRIENDLY TUNA WRAP
Serves 1
INGREDIENTS
¼ cup canned tuna, drained
2 tablespoons mayonnaise
1 teaspoon mustard
¼ teaspoon kosher salt
¼ teaspoon ground black pepper
1 large flour tortilla
¼ cup shredded carrots
¼ cup baby spinach
1 fruit skewer (optional)
Pretzels (optional)
Combine tuna, mayonnaise, mustard, salt, and pepper in a small bowl. Fill tortilla with the prepared tuna mix, carrots, and baby spinach and tightly roll into a wrap and slice in half diagonally (securing with toothpicks if needed). Serve with a fruit skewer and carrots sticks.
Devin Rogerino/BuzzFeed
Pro tip: Get creative with the fruit!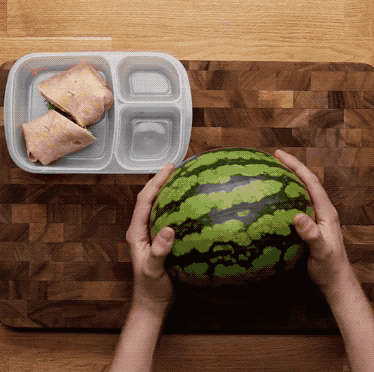 We cut out letters (using alphabet cookie cutters) — and these can be used to spell out cute words, names, or sayings. Besides watermerlon, this would also work with any firm fruits, like pineapple or melons.
Devin Rogerino/BuzzFeed
Let's eat!
Comedy Central
Source: https://www.buzzfeed.com/food.xml