Here's what our editors and writers are making in their own kitchens.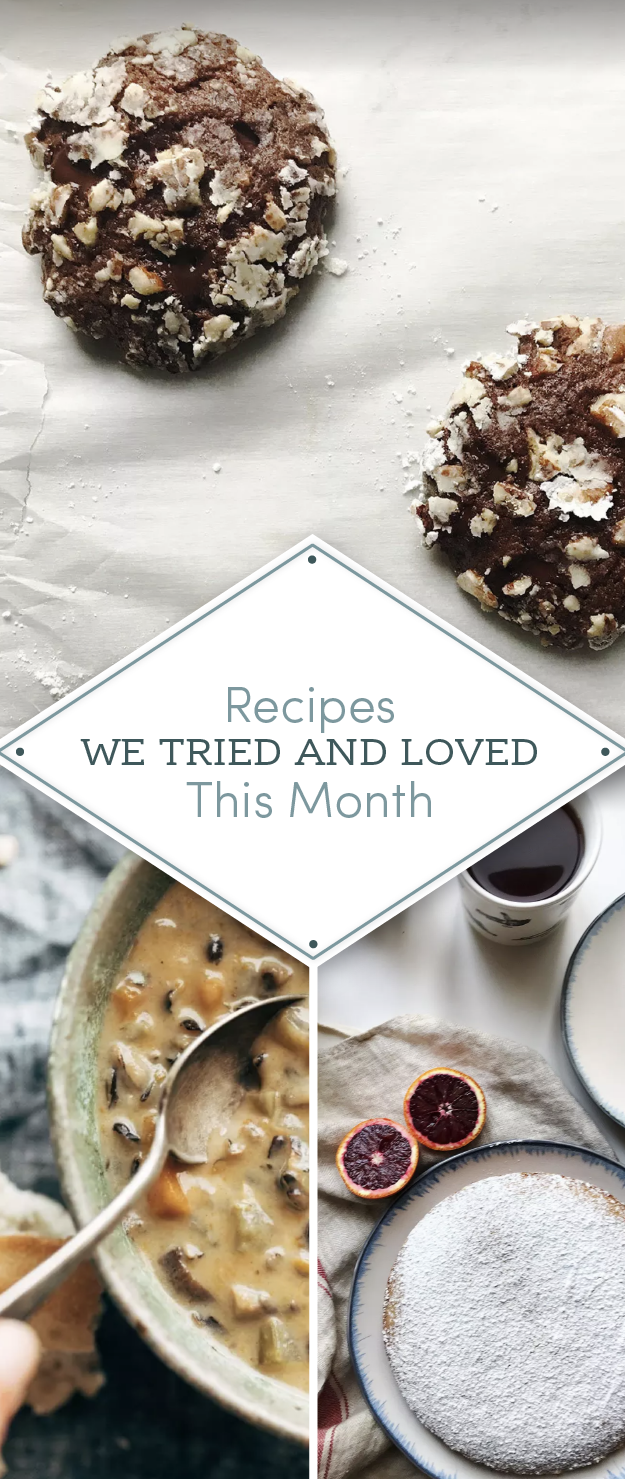 Nicole Ench / BuzzFeed
Instant Pot Wild Rice Soup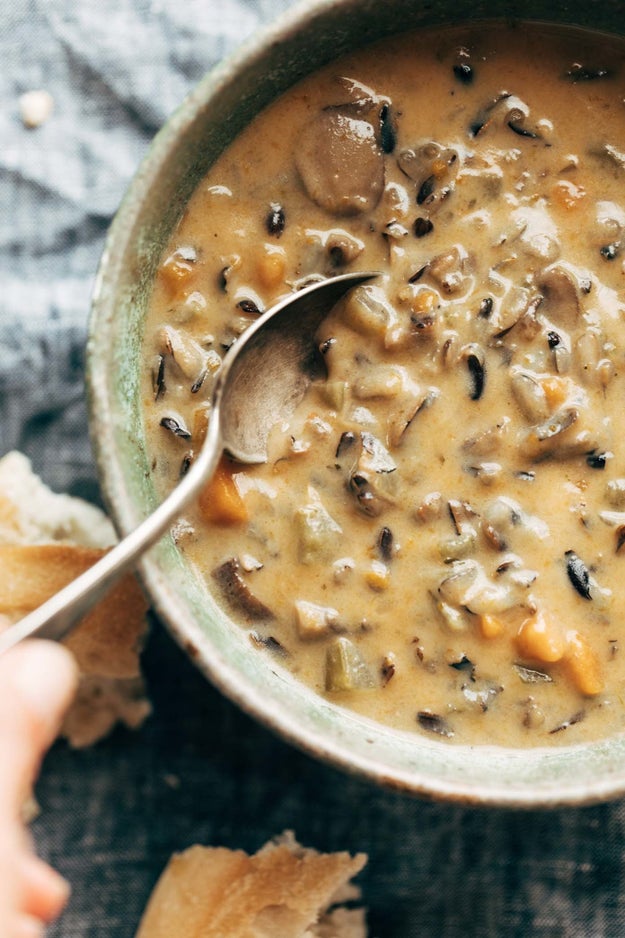 I'm always looking for hearty vegetarian recipes, and anything that doesn't include a ton of beans/lentils or tomato gets bonus points from me. I don't have an Instant Pot but followed the stovetop instructions for this wild rice soup and was blown away by how tasty it turned out. I don't cook much, but this was by far the most delicious thing I've ever made myself. —Gyan Yankovich
Get the recipe here.
Tahini and Halva Brownies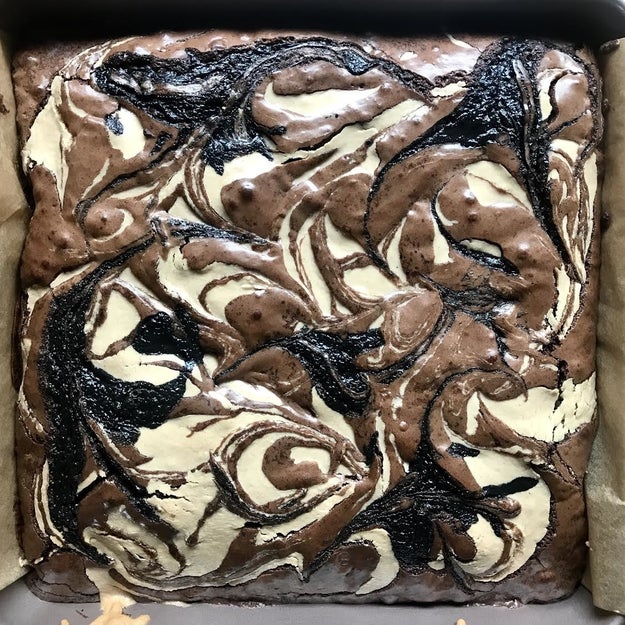 Ok! So, I didn't have halva — and didn't even know what it was before making these (I've since found a recipe for halva and made some. Turns out, it's delicious!) But even without the halva, this brownie recipe is spectacular. Very fudgy, and the tahini swirl was the perfect compliment to the richness of the chocolate. These brownies are RICH without being overly sweet and they are good at literally any temperature (I tried them all). I found black tahini to swirl into the top as well as the normal tahini — which made for an extra beautiful swirl. This is my new go-to brownie recipe — can't wait to try this again (with halva next time!) —Scott Loitsch
Get the recipe here.
Scott Loitsch
Vegan Cabbage Soup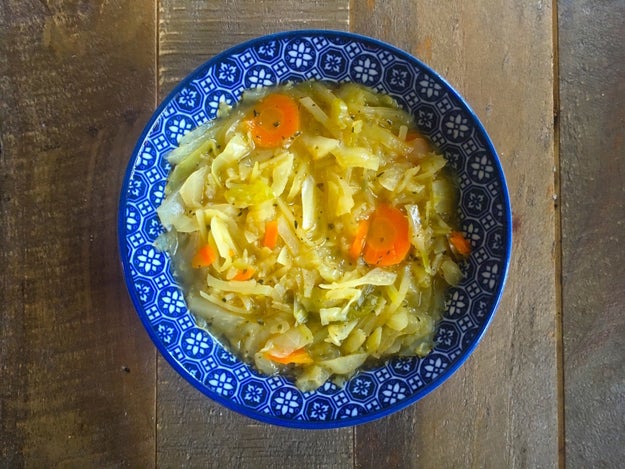 Call me crazy, but I've had a thing for cabbage recipes lately. It started when I first started to cook some Indian and Ethiopian dishes at home and noticed how versatile cabbage is. Cabbage seemed to easily soak up the flavor and spices of anything cooked with it, so I figured, why not try a whole soup? Yes, it may take some time to slice up all of the vegetables if you don't have an automatic slicer or Veggie Bullet machine. That said, it was well worth the effort, and the soup was delicious. Definitely recommend. —Whitney Jefferson
Get the recipe here.
Whitney Jefferson
Rosemary, Garlic, and Tomato Sourdough Focaccia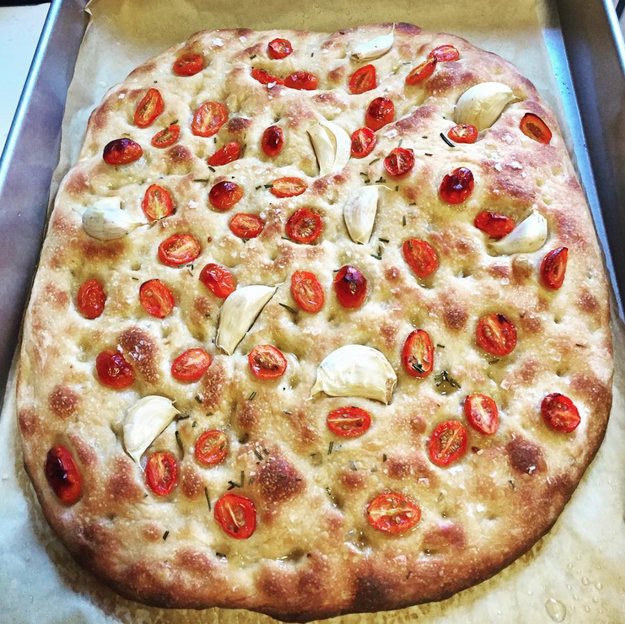 I'm trying to branch out from baking my usual loaves of bread, so I recently made this rosemary, garlic, and tomato sourdough focaccia (adapted from Artisan Sourdough Made Simple). If anything, it was easier than making a loaf of bread because I didn't have to worry about shaping it!
It does take a lot of time, but most of that time is just waiting for the dough to rise. I took it to a get-together with friends, and it was devoured within 10 minutes. The fresh rosemary really makes a difference in flavor, and the roasted garlic was perfect — people who didn't want garlic plucked the whole clove off, and those who did want it slid the garlic out of the skins and spread it on top of the focaccia like butter. It was absolutely delicious! —Cates Holderness
Get the recipe here.
Cates Holderness / instagram.com
Creamy Whole30 Bacon Garlic Spaghetti Squash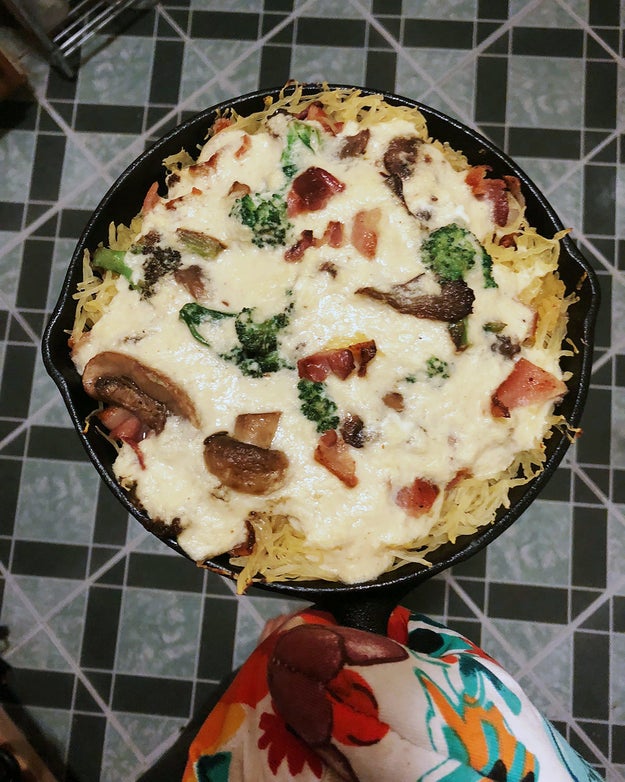 Thanks to Whole30, I've been cooking most of my dinners for the last three weeks, and this has been hands-down my favorite recipe I've tried. As with all Whole30 meals, it's dairy-, grain-, sugar-, and legumes-free, but so, so flavorful thanks to a magical combination of squash, coconut milk, and lots of bacon.
I love spaghetti squash as a base because it's crunchy, giving you the satisfying bite of pasta, and also a good netted "holder" for the creamy egg and coconut milk sauce that you dress all over it. For the fillings, I used savory mushroom slices, charred broccoli, and a ton of bacon, medium-cooked for a bit of extra chew.
The only cumbersome part about this recipe is that you'll have to either prepare your spaghetti squash on a separate day or just wait for it to bake for an hour or so before you begin prepping all the other parts of the recipe. If you're okay with a slightly limper or less crunchy base, you can also try it with zoodles. —Michelle No
Get the recipe here.
Michelle No
Chocolate-Tahini Tart With Crunchy Salt
If you've been on Instagram recently, you've probably seen these cookies. They're from Alison Roman's Dining In cookbook, and I had planned to follow everybody else's lead and make them one afternoon. But as I was going through the book, I saw this tart and all my plans changed.
This is a chocolate-tahini tart and chocolate, tahini, and tarts happen to be three of my favorite things. Put them together and it's hard to resist.
The recipe involves a few different steps but nothing too crazy. Sure, the dough is homemade, but you don't need to chill it or roll it out. You just press it down straight into the pan, flatten it with your hands, and bake it for about 15 minutes. The filling doesn't require any baking, but you'll have to let the tart rest for at least a couple hours before you can dive in (the recipe says "at least 1 hour" but I found that wasn't long enough for mine). So make sure to plan accordingly.
The result is a rich, intense, and very chocolatey tart. The crunchy salt on top is crucial as it really brings the whole thing together and perfectly balances the bitterness of the chocolate. Now, if you like your desserts sweet, I'm afraid this one isn't for you, but if you're a fan of strong chocolate flavors, you're in for a treat. —Marie Telling
Get the recipe here.
Marie Telling
Source: https://www.buzzfeed.com/food.xml